USD Ranks #1 in California for Business, Management and Marketing by College Factual
The USD School of Business is ranked No. 1 in California in the category of ďBest Colleges Offering Business, Management and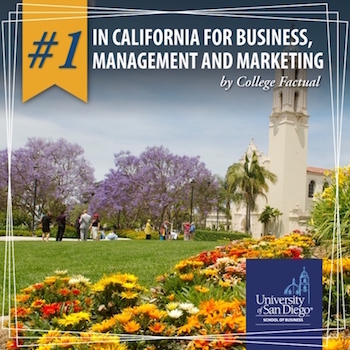 Students planning to earn an undergraduate business degree can attend a top-ranked school in California by choosing the University of San Diego, according to College Factual.
The USD School of Business is ranked 8th nationally in the category of "Best Colleges Offering Business, Management and Marketing Degrees," and number 1 in California. The ranking includes factors such as salaries after graduation, graduation rates and loan default rates.
"These rankings highlight the outstanding learning environment including small classes, cutting-edge curriculum and opportunities for international study that position our undergraduates for success in the business world," said USD School of Business Associate Dean for Undergraduate Business Programs, Stephen Conroy.
For students planning to major in accounting, USD's program is number 1 in San Diego, number 2 in California and 15th in the nation according to College Factual.
USD also ranks number one in the country for real estate.
For more information go to www.sandiego.edu/business.
Map
5998 Alcal√° Park
San Diego, CA 92110