Professor of Impact Forges New Path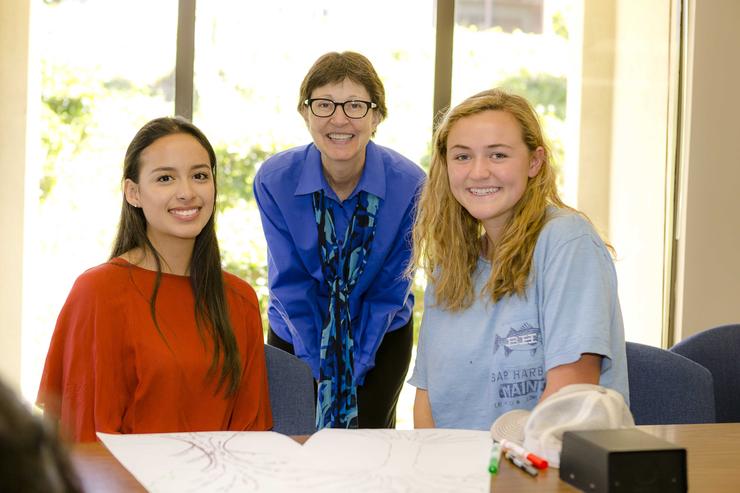 begin quote

Emphasizing global opportunities and impact results in a more respectful mindset of our students. We want our students to learn and accept other cultures' ideas rather than impose their own.
With one brief look at Professor Deborah Kelly's biography, it's easy to understand why her economics courses fill up so quickly and students often have to wait on a "class waitlist" until someone drops to be able to add the class. Clinical Professor of Economics, Deborah Kelly, was a previous branch manager for a prestigious financial institution and has worked with global institutions to help rate them on their entrepreneurship, effectiveness and social impact. She has also conducted research focusing on topics such as student loan debt, donations to higher education, and perceptions of online education.
Coming up on her tenth year here at the University of San Diego School of Business, Kelly has been recognized as a professor of impact twice by two different student organizations. With a passion for leading change and helping students on campus, it comes as no surprise that Professor Kelly is serving as a co-chair on one of the five committees in charge of facilitating the implementation of the 2025 School of Business strategic plan with respect to the Engaged-Globally Minded Learning platform. The goal of this platform is to strategize how the School of Business can develop even more innovative and hands-on learning opportunities for students in our San Diego community and around the world.
"Emphasizing global opportunities and impact results in a more respectful mindset of our students. We want our students to learn and accept other cultures' ideas rather than impose their own," says Kelly. "What's really great, is the fact that in the strategic plan implementation committee we get to ask the faculty and staff about their ideas for the School and then help make those ideas come to life to support our students and enhance the reputation and impact of our School. Getting to impact others gives me the motivation to do more."
Kelly really enjoys exposing students to a global mindset in her classroom as well. In a recent Behavioral Economics class, a few international students were encouraged to provide insights about their countries. Students reflected on the differences in the buying behaviors in their countries versus the consumer behaviors in the United States. In the U.S., there are more choices and product sizes that can be overwhelming for many consumers visiting from outside the U.S. In addition, the idea of ordering from Amazon and receiving that product within two days is not a common concept for international students. These students helped us reflect on businesses that work in multiple countries and what they need to consider in their advertising and product endorsements internationally.
"They taught me something from their culture," says Kelly. "I think that's fascinating. A student can learn information and say 'you know, that's happened to me before.' That excites me. It helps me learn from them. I believe these multicultural interactions in class are extremely valuable to our students and faculty alike."
After a decade of teaching, researching and leading new initiatives at USD, Kelly is excited for what the future holds for USD including its faculty, staff and students. She shares what the initiatives of the University's new strategic plan will make possible for future students.
"We have five strategic platforms. The first one is about giving students an opportunity to engage in a globally minded learning experience that involves experiential learning to understand the world marketplace. In addition, we want to offer data driven decision making experiences and entrepreneurship connections, as well as a chance to learn about ethical leadership and sustainable business options. We want to continually stay in touch with the market trends and innovative ideas to best prepare our students for the future."
Through these initiatives, USD students can expect to become career ready graduates with a liberal arts business education, be immersed in relevant and rigorous programs that are internationally focused, interact with pioneering thought leaders, develop values-based community links, and be connected to inspiring alumni.
Map
5998 Alcalá Park
San Diego, CA 92110