Enlightened Entrepreneur
James Brennan '96 BBA Marketing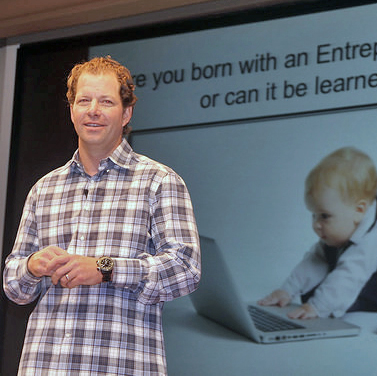 In the fall of 1992, James Brennan arrived on USD campus uncertain if he'd complete his first year of college. A streetwise New Yorker who learned to take care of himself at a young age, he didn't know if he'd fit in. But after two weeks, he didn't want to leave. "Something magical happened," he says. "I began to meet people from different places and build relationships." Not only did Brennan make San Diego his home, over the next 25 years, he transformed those magical personal connections into a formidable corporate vision and mission.
Graduating USD in 1996 with an emphasis in marketing, Brennan gravitated towards the real estate and mortgage industry. He was successful and might have been content remaining in that sector if not for a New York pal, Damien Farrell, who influenced his next move.
"I wasn't planning a career-change," Brennan says. "I just wanted to keep my best friend from returning to New York." Together they created Side Bar, which brought a Manhattan vibe to the San Diego's Gaslamp district. It instantly became one of San Diego's most popular nightspots. Brennan was just warming up.
Over the next five years, he launched a string of highly successful nightclubs catering to young professionals, including Stingaree and Bar West. Then the economy took a downward turn. Even with his instinct for successful ventures, some of Brennan's ambitious efforts tanked. In 2008, he sold the clubs to avoid bankruptcy.
"It's really the failures you learn from most. Once you realize that, you're in a better position. It takes resilience, but you get back up and keep going."
The power of resilience.
With important lessons learned, Brennan turned his sights to a series of concept restaurants with chef Brian Malarkey. Each venue was uniquely designed to feed all the senses with comfy- chic décor, mouth-watering fusion cuisine, signature crafted cocktails and eclectic music. The most successful, Herringbone and Searsucker, now have multiple locations across the country. He could have kicked back and enjoyed the sweet taste of success, but that was not Brennan's style.
In 2012, his wife introduced him to his next product: a cold-press juice, which they would eventually call Suja. Taking on the mom and pop operation was a turning point. Within four years, they transformed the local entity into a national brand valued at $300 million, and discovered his true passion: consumer products. Under the umbrella of his new holding company, Enlightened Brand Ventures, Brennan now helms a diversified portfolio of start-ups.
"I seem to have a knack for identifying trends in the market," he says. "I like the health and wellness space because I live that way, and consumer interest in healthy lifestyle products is only going to continue."
For his latest venture, Kopari Beauty, a skin care line made with coconut oil, he partnered with USD alumni Bryce and Gigi Goldman, who he met his freshman year, along with Kiana Cabell who also attended USD. Once again, the strength of the relationship forged during their years at USD guided Brennan's business decision. "We're like family," he says. "Especially Bryce and me. We can speak without using words."
Appreciate the past. Anticipate the future. Remain present.
Success or failure, Brennan is not one to dwell on the past, but he does appreciate where he got his start. In 2012, when Hurricane Sandy destroyed his hometown in Rockaway, New York, he rushed to help rebuild the community.
Now, as a fixture in the San Diego community, he makes substantial contributions to organizations such as Catholic Charities and the Big Brothers Big Sisters program. He also serves on USD's emerging leadership council and was one of seven donors to establish the university's new $1.8 million Center for Ethics, Economics and Public Policy.
Realizing the most important contribution he can make is in the lives of the next generation, he also employs dozens of USD grads, extending the magical personal connection he discovered on USD campus more than 25 years ago. "It's no coincidence that my success is related to having an attitude towards how I can help the world," he says. "It took me a while to find my passion and my purpose, but since then, things have gone pretty well."
Phone
Phone: (619) 260-4830

Map
Olin Hall
5998 Alcalá Park
San Diego, CA 92110