Corporate Governance Guru
Annalisa Barrett, Clinical Professor of Finance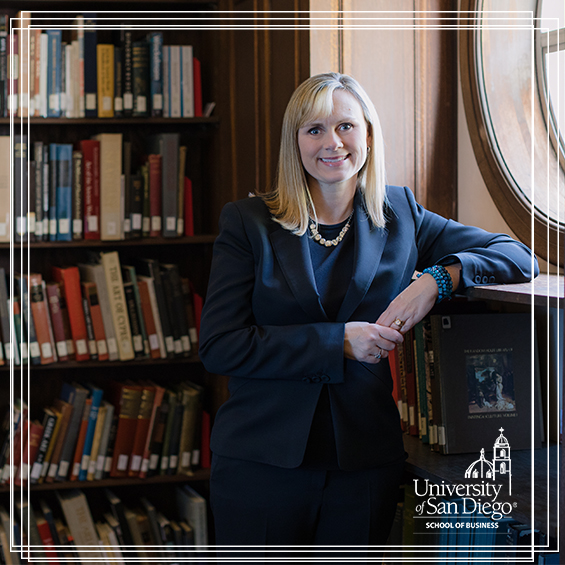 In 1999, the dot-com bubble was quickly inflating. Fortune magazine heralded an energy corporation called Enron, "America's Most Innovative Company." At the time, Annalisa Barrett was busy completing her MBA. She became fascinated by the courses she took in corporate governance, only to discover there were few jobs in the field. Most people thought corporations didn't require that level of scrutiny…
A few years later when the bubble burst and Enron filed bankruptcy, suddenly expertise in corporate governance was in demand — and so was Barrett. Since then, the USD clinical professor of finance has advised companies and investors about the consequential relationships between corporate decision makers, their board members and shareholders. Today, she's sharing that wisdom with her students at USD.
Ahead of the trends.
In 2005, Barrett joined The Corporate Library, which rated companies based on indicators of governance risk and red flag indicators of potential board ineffectiveness. As vice president and senior research associate, she oversaw the firm's research on boards of directors and governance practices. Barrett worked with The Corporate Library founders, Robert A.G. Monks and Nell Minow, who wrote the Corporate Governance textbook, which is used by MBA classes around the world. Now Barrett uses that same textbook in the MBA corporate governance classes she teaches. She also calls upon her experience working for corporations and shareholders to give a well-rounded viewpoint to her students.
"In finance you're often focused just on the numbers," she says. "But investors are also interested in a company's long-term effects on society and the potential risks, especially in the areas of environmental, social and governance."
At every turn, Barrett's goal is to ready her students for careers in finance. As faculty advisor for the Student Finance Association, she brings in a variety of C-level officers and directors as guest speakers — such as Leonard Comma, CEO of Jack in the Box, Kimberly Alexy, director at FireEye, the late activist/investor Ralph Whitworth — to give students access to business leaders who are successful in their areas of finance. She also serves as a board member for the San Diego Corporate Directors Forum, where she connects with area business leaders.
A voice in global business.
Barrett is known within the industry for keeping her finger on the pulse of best practices and trends that drive corporate decision-making. She's frequently asked to speak at major governance conferences around the world and is a go-to for news outlets for her expertise on corporate machinations. "Although I love teaching," she says, "I'm still taking part in the conversation from a professional perspective."
As founder and CEO of Board Governance Research, Barrett publishes her findings on demographic diversity in the boardroom and what makes boards more effective in their roles as fiduciaries for their shareholders. The Investor Responsibility Research Center Institute published her latest study on age diversity in the boardroom, which was featured on The Harvard Law School Forum on Corporate Governance and Financial Regulation. She also continues to collaborate with Monks, Minow and another corporate governance luminary, Richard A. Bennett, as a senior advisor for their current firm, ValueEdge Advisors.
Although her work is not always strictly about the numbers, her expertise in the field of corporate governance, research and instruction adds up to a successful equation for a finance professor who's also a professional. With her deep understanding of complex issues, Barrett provides her students a rare perspective as the challenges unfold within the ever-changing corporate landscape.
Phone
Phone: (619) 260-4830

Map
Olin Hall
5998 Alcalá Park
San Diego, CA 92110