The Future Torero of Wall Street
Alex Hernandez '18 (Finance)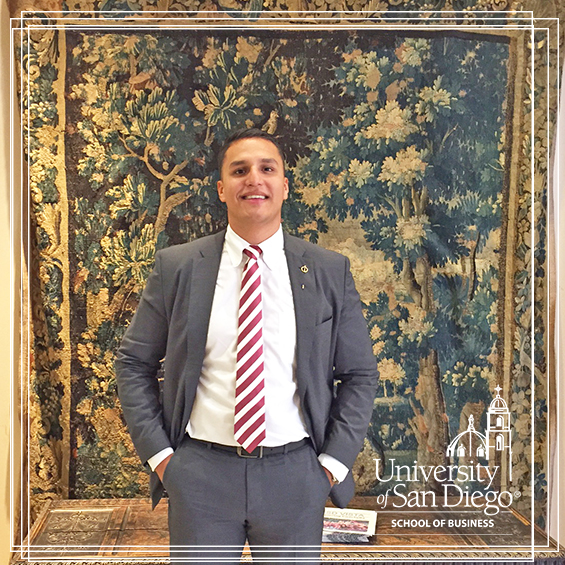 Usually, being a college student in California is something people dream of. But early on in his college career, Alex Hernandez '18 (Finance) realized that being from California was making it hard to get noticed with the big banks on the East Coast.
"They have Wharton, Cornell, NYU all close by," says Hernandez. "I felt like I was being dismissed because I was from a smaller school on the West Coast."
So this self-described 'strong personality' who grew up in Mexico City and the Bay Area decided to make himself known. He started digesting everything he could get his hands on related to investment banking and M&A. In his freshmen year, he landed a decent internship at a real estate investment firm that became a building block to a better internship with Bank of America.
"That positioned me well for a boutique asset management internship throughout my sophomore year," says Hernandez. From there, he got a position at Royal Bank of Canada, where he still interns as a portfolio analyst. He also earned an internship for four months as an M&A analyst at Bainbridge, one of the top 50 management consulting firms in the world. To top it all off, he landed a job as an analyst with Analytics Ventures where he took on some challenging projects, including creating a strategy and financial models for a venture portfolio company.
Each experience built his competencies—and his confidence—until he decided it was time to aim again for a gold standard position at one of the big banks in Manhattan.
Easier said than done.
On a Torero Trek to New York with USD's Career Development Center, where Hernandez got to meet executives from Goldman Sachs, S&P and Citi, he again started to worry that his dream of working in the world's epicenter for finance might not come to fruition. Even when he was tapped for an interview with JP Morgan, it was a mixed blessing since he literally had no idea how to complete part of the screening process, which was to do an analysis of a company.
"I knew it was a big opportunity, and when I didn't get the job, I asked them for feedback," says Hernandez. "I noted all the things they told me I needed to improve. And then soon after, I got another email from JPM with an invitation to interview for a corporate banking internship in the headquarters in New York City."
He prepped five to six hours a day for more than a week. And this time, he landed the job. He'll spend the entire 2017 summer living and working on Wall Street in JPM's corporate strategy and process improvement division.
"What this whole process has taught me," he says, "is that while USD students can't necessarily compare with students at Ivy League schools, we are definitely competent and smart enough for these positions. The people I'll be working alongside are from some impressive schools. But I have what it takes to be there and succeed too. I just need to focus on what I want to do and where I want to go."
Phone
Phone: (619) 260-4830

Map
Olin Hall
5998 Alcalá Park
San Diego, CA 92110