West Campus Coverage
West Campus Loop
Stops:
West Parking Structure
Marian Way Uphill
Colachis Plaza - to Law Circle
Law Circle
Legal Research Center
Colachis Plaza - to West Parking Structure
Marian Way Downhill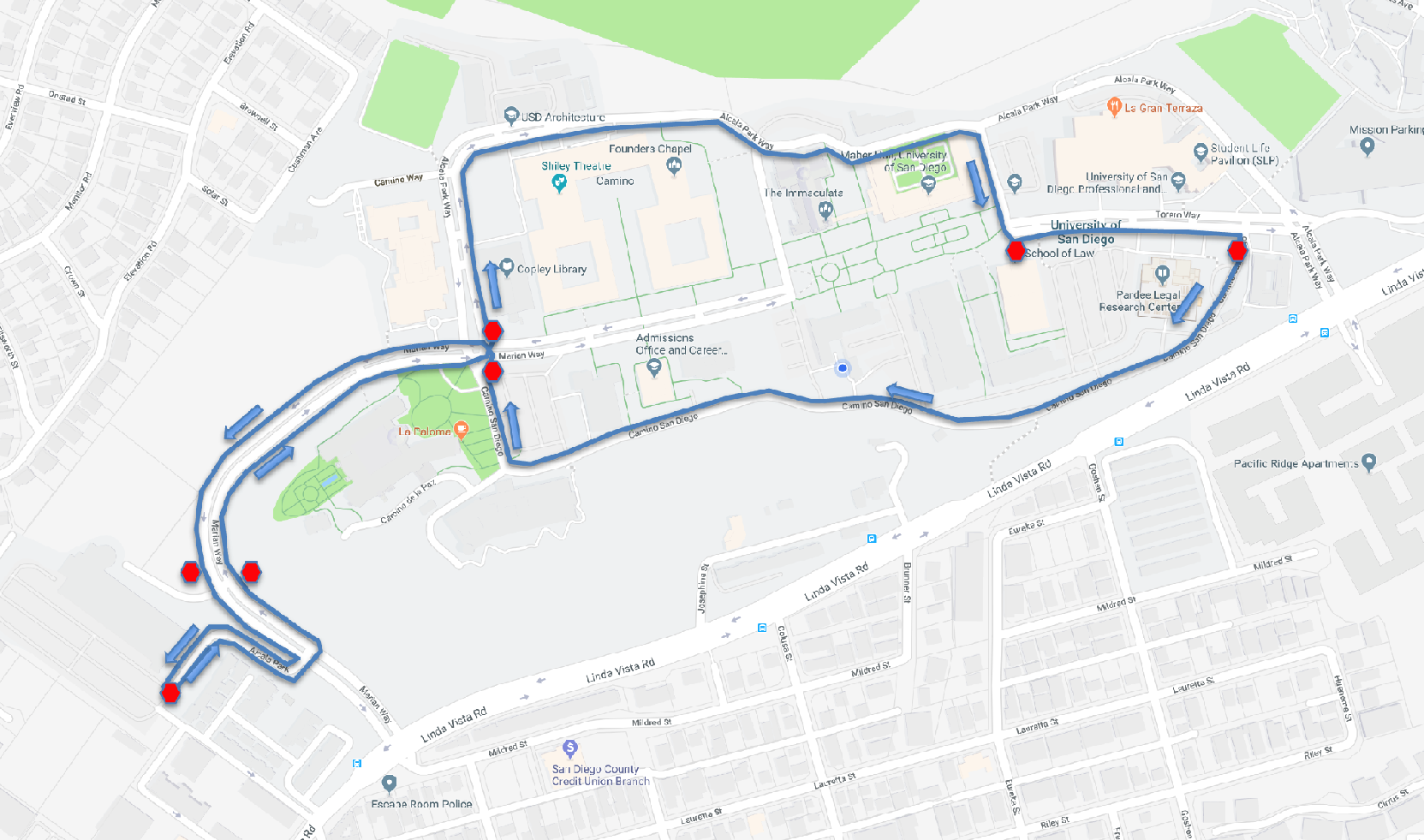 East Campus Coverage
Torero Express
Services the Manchester Village Apartments and the Alcala Vista Apartments. This loop is designed to transport resident students to the center of campus as quickly as possible.
Stops:
Law School Circle
Jenny Craig Pavilion
Manchester Village
Alcala Vista Apartments
Mission Loop
Services only the east half of campus.
Stops:
Law School Circle
Mission Crossroads
Manchester Village

Alcala Vista Apartments
Other Campus Coverage
Old Town
UPDATE for the Old Town Route!
The Old Town Route has been slightly adjusted to help ease the time constraint the afternoon riders are experiencing when catching their Coaster Train connection. In the afternoon, the Old Town tram will now start its departure schedule at the Law Circle, then pick up at the Colachis Plaza on its way out to Old Town. Please see the map below and send us any feedback at Trams@Sandiego.edu! 
Morning Shuttle
6:45 a.m. to 10:15 a.m. (approximately every half-hour)
Afternoon Shuttle
3:00 p.m. to 7:30 p.m. (approximately every half-hour)
Stops:
Old Town
West Parking Structure
Colachis Plaza - to Law Circle
Law Circle
Legal Research Center
Colachis Plaza - to West Parking Structure