October 1, 2015
San Diego Rotary Club, Liberty Station Conference Center 
Thank you Matt. As you just heard, Matt Reno, is a USD Board member & distinguished alum of USD. On the board with him are several prominent leaders of San Diego, including Ron Fowler, who is chair of the Padres Organization, but also the USD chair.
Matt's introduction today reminds me of my introduction to Ron when I interviewed back in January. When I first met Ron, we exchanged some small talk. And then I said to him, "You know, Mr. Fowler, I have only lived in two major league cities in my life: Cincinnati in '90 when the Reds won the series, and Philadelphia most recently, during which they won five NL East titles, made it two World Series and won it once." Without pause, he looked at the chair of the search committee and said, "Hire this guy…."
It is good to be with you today.  During my eight years as president of Defiance College, I was a member of Rotary and am very familiar with the important role this organization has in changing the world and making our communities stronger. 
When I was thinking about my speech today, I was thinking of the four-way test: Is it the truth, is it fair, will it build good will, and is it beneficial to everyone involved?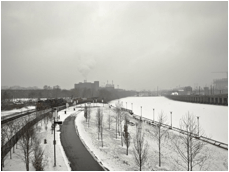 For me, as I was thinking through this new opportunity it was early February. A board member of mine at Widener called me and she evoked the fairness principle, suggesting it wasn't fair that I thinking of accepting a job when it was 17 degrees in Philadelphia and it was 71 degrees in San Diego.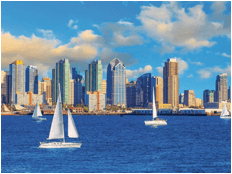 And of course, USD played up the climate, and this is what everyone in San Diego says: It is around 71 degrees all year round with no real heat or humidity. Hmmmmm...  So now with degrees in the 80's and high humidity for weeks on end, I am beginning to wonder about the first test, "Is it the truth?" Is the weather image just a rue?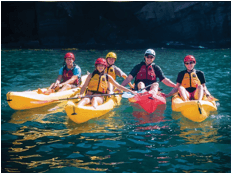 Well I can say that my family and I have loved it here so far. In fact, on my second day on the job, the university had me embark on a kayaking trip with my son, Braden, and a group of USD students at the La Jolla Marine Reserve. The beauty and camaraderie of that day has continued throughout my initial experience in San Diego.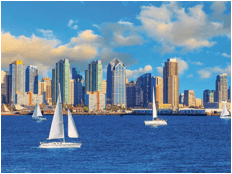 I now have first-hand experience as to why this city is known as "America's Finest." And it is great to be with you today.
Over the past few months, my family and I have been watching the political debates.  And as an old social studies teacher, I can't help but be drawn to the election cycle. And today it is particularly interesting. Perhaps not much substance, it is at least entertaining.
What has been interesting to me is listening to the people running for president. There is a tendency to reminisce about past leaders who inspired the nation to greatness during difficult times. For example, several republicans have evoked the name of Ronald Reagan, and the democrats John F. Kennedy, as recent examples of how to lead.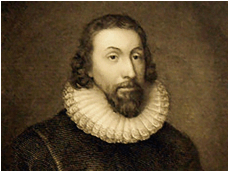 What is interesting about those comments is both of those presidents, while worlds apart on many issues, had two things in common. First, they were optimistic about our future, and both liked to quote a puritan minister and leader – John Winthrop – who in 1630 likened the potential of the new colonies as a "city on the hill." Both Kennedy and Reagan used his elegant description. The latter adding the word "shining" to the phrase.
When I think about San Diego, I am reminded of Winthrop's 1630 sermon when he spoke about "A City upon the Hill" – watched by the world – when referring with optimism to the future colonies and the opportunity for economic prosperity for all and a flourishing democracy.
He believed in 1630 what we believe today in San Diego, that the future is bright if we can, within our own community. Become a model of inclusion, social justice, and unity.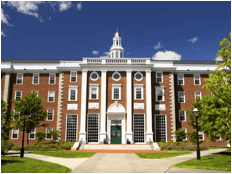 It is no coincidence that just six years after his famous sermon, one of the first things the Puritans developed was a college, now known as Harvard University, to help the colonies realize their potential. In fact, the founding fathers knew exactly how important higher education was, placing it at the top of their priorities.
Let me share with you what they wrote in 1643 about those priorities in a publication called New England's First Fruits. "After erecting shelter, a house of worship, and the framework for a government, one of the next things we longed for and looked after, was to advance learning and perpetuate it to prosperity."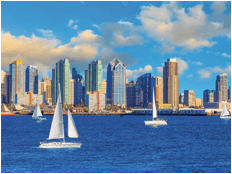 In every instance, as new, prominent cities developed across the colonies and the United States, they were complemented by emergence of great universities that contributed to the growth and vibrancy of the cities.
As one of the fastest growing cities in America, San Diego has developed a great reputation as a great place for tourism, international trade and a growing high-tech industry. It also has a proud tradition in support of the military and a place that encourages entrepreneurship, but is also a city that faces challenges regarding immigration, homelessness and climate change.
And just like the rest of America, great universities have been an important part of the story of the City of San Diego and are critical to its ability to solve these big societal issues. We have prominent public research universities, a flourishing network of community colleges, and a few independent universities. All of these universities contribute to the financial growth, intellectual development and rich diversity of the city.  
However, I would propose to you today that the University of San Diego, is not only a great university in terms of teaching, research and service, but is also a university whose values align closely not only with Rotary, but also with the future promise of this great city.
The global focus of Rotary through its humanitarian efforts, spanning from its commitment to rid the world of polio, to improve international cooperation and understanding, is inspiring. And USD has been, and will continue to be, in perfect alignment with those global and local agendas in the future.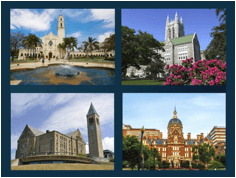 For example, "service above self" could also be the motto for the University of San Diego…as one of only 30 campuses in the world that has been designated as an Ashoka Changemaker hub.
The focus of Ashoka is to build an international community of universities that prioritize the cultivation of empathy, teamwork, leadership and changemaking in their students. The 30 are spread across the globe and include Boston College, Tulane, BYU, Brown and other fine universities. Ashoka believes that these 30 universities will become the next global drivers of social change by the way we prepare students to change the world.
So how is USD positioned to be a world-changing hub? First of all we are global in our perspective, with more than 8,000 students from 77 countries and 44 states. USD is intentionally organized to create an ecosystem for students to connect with one another and with faculty from various disciplines….across the campus and around the world.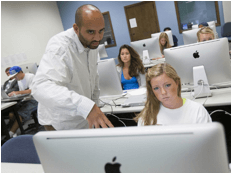 It starts in the classroom, where Changemaking is embedded into the curriculum. With small class sizes, there exists a special relationship between students and faculty, who ignite in the students a spirit of innovation and service.
Vibrant academic experience, grounded in our rich Catholic intellectual tradition, are coupled with civic engagement experiences, enabling learning to extend beyond the classroom into San Diego, as well as communities globally.  And while doing so, prepare students for their roles as responsible citizens.
I am sure many of the USD alumni in this room can attest to this. Our alumni are not only business leaders, like Matt and Chuck, but people who are directly impacting San Diego government and law enforcement, including Todd Gloria and Chris Cate on the City Council,
San Diego City Attorney Jan Goldsmith, Sheriff Bill Gore and Congressmen Juan Vargas and Ryan Zinke, among others.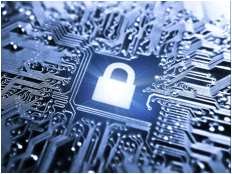 We also supporting San Diego by being on the leading edge of the digital age in cyber security, which is a growing local and global concern. To support the city's need for professional expertise in this regard, we recently launched a Center for Cyber Security Engineering and Technology.
The Deputy Director of the National Cyber Security at the U.S. Department of Homeland Security described our approach to cyber security education as "a model for the nation," and that he "knows of no other school using a total immersion strategy to educate cyber professionals."
The University of San Diego is very proud of its long-standing partnership with the military, veterans and their families. In fact, USD has been the headquarters for the San Diego NROTC Unit since 1982.
We have also been a member since 2009 of the Veteran's Administration's Post-9/11 G.I. Bill's Yellow Ribbon program, which funds a majority of tuition expenses for eligible student veterans.
Our School of Law Veterans Legal Clinic serves regional veterans offering free legal assistance to veterans in disputes with for-profit institutions over the use of GI Bill funds.
Our Hahn School of Nursing and Health Science has teamed with the White House and other universities to educate current and future nurses on how to recognize and care for veterans impacted by PTSD, and established the first psychiatric nursing advanced practice program in Southern California specializing in treating soldiers with PTSD.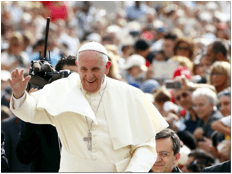 As I share these positive contributions to the City of San Diego's growth and prosperity, I wish to return to something I said earlier about our Catholic mission, which reminds us of the harsh realities that San Diego also faces every day.
These were topics in the national news during the Pope's recent visit to the United States. The Pope's encyclical on Our Care for our Common Home is particularly relevant to our Catholic intellectual tradition at USD. The Pope's message on the environment and social justice were topics that resonate strongly with what we do…and who we are. Our students and faculty are engaged in turning the Pope's call for dialogue into action. As our students take their classroom learning into the community, we are living out a "care of our common home" for all human beings. In fact, our approach and commitment to the environment has, according to the Sierra Club, ranked USD 14th in the nation as one of the "coolest" schools in America committed to sustainability.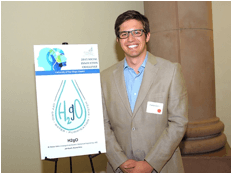 One of our most creative students from 2015 was Parker Cohn, who embodied our Changemaking spirit with an innovation that transforms polluted water to potable water for remote communities around the world. Since electricity is scare in developing parts of the world,
Parker created a human-powered mobile water purification system that resembles a stair stepper exercise machine. He developed and implemented a business plan for the project, which led to a start-up company. He plans to pilot a desalinization and sterilization water system in Haiti in 2016.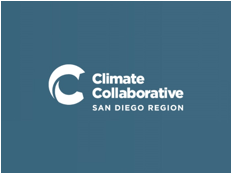 USD is at the forefront of addressing environmental issues both locally and nationally. We are collaborating with our Climate Education Partners to develop a comprehensive strategic plan for climate change education, and USD is the only Catholic university in the nation to be selected by the National Science Foundation to participate in one of six Climate Change Education Programs.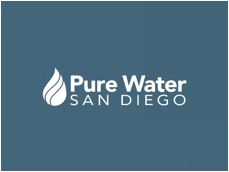 As many of you may know, Pure Water San Diego is the City's phased, multi-year program to use proven water purification technology to produce a safe and sustainable high-quality water supply for San Diego.
The City invited 29 USD students to participate in a hands-on effort to present creative recommendations to the City of San Diego on how best to communicate to the community the value of the Pure Water Program.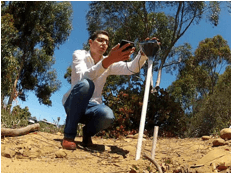 Every year, USD hosts the Changemaker Challenge, where students are empowered to create positive change that will improve the campus. The drought was on the minds of many students. One student, in particular, quickly became a crowd favorite, as he presented his plan to create water out of thin air. Konstantin Avdienko, a second-year mechanical engineering and computer science major, stumbled across his idea while looking at condensation on a glass window. Using supplies purchased at Home Depot, he created his first water condenser. In a single day, his condenser created almost half a gallon of dew. After winning the competition, Konstantin received an offer from a local technology company to fund a more refined version of his prototype.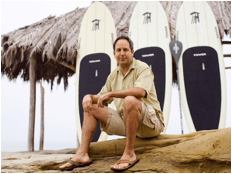 As many in this room will affirm, USD alumni continue their innovation prowess into their chosen careers. How many of you are familiar with the ABC's television series Shark Tank and its notorious billionaire, Mark Cuban? What you likely don't know is that Mark's most successful investment on the show to date is with USD alumnus, Stephan Aarstol, the CEO and Founder of Tower Paddle Boards. His company was the fastest growing company in San Diego in 2014 and was recently named as one of the fastest growing companies in America, according to the Inc. 500.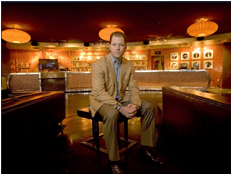 USD alumnus James Brennan is the co-founder of Suja Juice and CEO of Enlightened Hospitality Group. His San Diego-based juice company recently ranked number two on Forbes "Most Promising" List.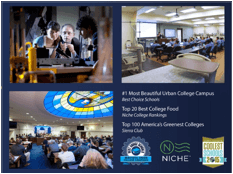 As you can see, USD, continues to have a positive impact on the City of San Diego. Our award-winning faculty have earned the respect and recognition from communities and organizations around the world.
Here some other examples of the awards USD has received recently:
USD is consistently ranks among the top three universities in the nation for the percentage of undergraduate students participating in a study abroad program – last year over 70%.
Our business school's MBA program was recently ranked third in the world by the Financial Times for entrepreneurship.
A hub of innovation at USD is our Shiley-Marcos School of Engineering, which is ranked 15th in the nation by U.S. News & World Report.
In the area of healthcare, our Hahn School of Nursing and Health Science is the number one Catholic Graduate Nursing School in the nation, and number 30 in the world.
USD's nationally recognized School of Law faculty were recently ranked in the top 30 law faculties in the world for the contribution to the scholarship of law globally.
Beyond the accolades, and most importantly, our educational philosophy based in the Catholic, liberal arts tradition, creates an atmosphere of open discussion and discovery, preparing the whole person—intellectually, socially and spiritually. The result is students with a global mindset who are compassionate citizens and ethical leaders.
For employers, our graduates demonstrate solid communication skills, critical thinking skills and the ability to work well in diverse teams. These are the competencies that today's global companies and non-profit institutions are looking for.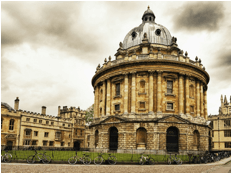 Many years ago, the long-term president of the University of Miami, Dr. Tad Foote, visited Oxford University. And while he was there, he asked if he could tour the campus with the head grounds keeper to see if he could pick up some good ideas that he could bring back to the University of Miami. The groundkeeper showed him the university's many gardens and courtyards, and even spent time showing him how they made decisions regarding what trees and bushes to plant and how they cared for lawns. At the end of the day, Dr. Foote asked the secret to creating a beautiful campus. The grounds keeper paused and said, "Well, I suppose it has something to do with the architecture and planting the right things, but mostly it is about sticking around for 1,000 years."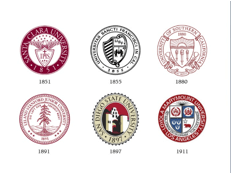 Well, a university can't afford to wait 1,000 years to see what happens. The University of San Diego is only entering adolescence when compared to many other universities in the region and across the country. Our earliest origins only date back to 1949, and arguably, in our current form, to 1972.
In the future, USD will continue to build on its momentum, and we will become even more deeply involved as an anchor institution in San Diego. In other words, we will be deeply engaged in the issues of economic development, global competitiveness, education reform and promoting social justice domestically and globally.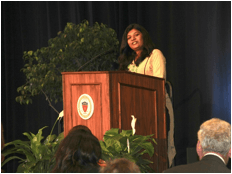 That future is being shaped right now in collaboration with many of the people in this room. The University of San Diego has had a strong connection with Rotary. This District has sponsored or hosted more than 70 Peace Scholars—23 of whom studied at USD's Kroc School of Peace Studies.
The mission of Rotary International and USD are very similar, and is lived out in the Rotary Scholars. One of the recent shining stars was last year's Rotary Scholar, Naumana Suleman, from Pakistan. While working on her master's degree at USD, two of her peacemaker friends in Pakistan were assassinated, one in front of her own mother. Later in the year, Naumana's mother was praying in a church in which a suicide bomber detonated himself. Her mother survived uninjured, but the family had to relocate because of the threat of riots. 
While she was a Rotary Scholar in District 5340 last year, she presented to several Rotary clubs about conditions for religious minorities in Pakistan, and what she believed could be done about them. Many Rotarians, Club 33 included, were impressed by her passion and professionalism, and partnered with each other to provide an $18,000 Global Grant to help her build her peacemaking organization. 
Naumana and her colleagues study situations in Pakistan to try to determine why one flash point will result in a violent riot in one location and remain only a simmering tension in another. She and her colleagues are identifying peacebuilding strategies that they will share across a network of peacebuilders.
Examples like Naumana represent the mission and core values of USD in advancing academic excellence and preparing competent, ethical servant leaders to make a positive impact in this world.
As the new president of the University of San Diego, I pledge to you our continued support to fine community organizations such as the San Diego Rotary Club and want you to know how we are committed to helping the City of San Diego become the 21st century's living embodiment of John Winthrop's dream of communal charity, social justice, and unity.
James T. Harris III, DEd
President
###