Welcome to a new academic year at the University of San Diego. Our Changemaker-designated university provides you with many opportunities to use your God-given gifts to pursue a holistic, liberal arts education at an institution that is the youngest independent university ranked among the nation's Top 100. It's great to see that there's already a developing sense of community and connection to campus, from OLÉ! Weekend orientation and our many athletics events to the Living Learning Communities and your fall classes.
My wish for everyone in our great Torero community is that this year is the best it can be.

James T. Harris III, President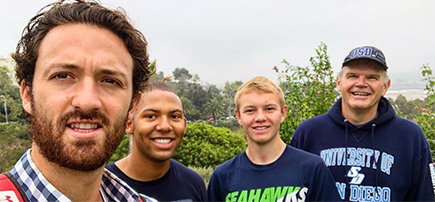 One of the great benefits of living on campus is the opportunity to take morning walks on campus with students. Many thanks to Victoria, Diana, Clare, Sam, Ernesto, Joseph & Jason for joining me this week. Go Toreros!
Follow President Harris on Instagram and Twitter, @USDPres
MEET THE 2024 VISIONARIES

USD IN THE NEWS FROM AROUND THE WORLD
The University of San Diego was the higher education institution chosen for an NBC Today story about security tips to stay safe on campus. The Today Show states in the article that USD was picked for the segment because of its low crime numbers, according to the U.S Department of Education.
Logistics, supply chain and transportation are undergoing a sea change. Industry and functional executives recognize they face a nearly unprecedented barrage of challenges and opportunities. Mary Long, USD Supply Chain Management Institute director, talks about more reliance on outsourcing.
School of Law Prof. Orly Lobel's You Don't Own Me, recounts "toy wars" between Mattel, distributor of Barbies, and MGA Entertainment, distributor of the Bratz dolls. The book shows how the wars "challenge the right and freedom to leave jobs, compete with incumbent companies, control ideas and innovate." 
Humanities Center Gains $1.5 Million Directorship Gift
The Humanities Center, which in just two years has made a big impact on the USD campus community through its varied programming, received a generous $1.5 million gift via College of Arts and Sciences to establish the A. Vassiliadis Director of the Humanities Center. The first recipient is current director Brian Clack, PhD, who is also a philosophy professor.
Suggested contributions to future issues of the President's Postcard can be sent to the Office of Digital Communications and Institutional Marketing at dcim@sandiego.edu.
Proud of all the great things happening at USD? Forward this email to a friend.