The Nov. 27 Christmas tree lighting ceremony at Paseo de Colachis was a festive gathering. It kicks off the holiday season and is a reminder that our community has so much to be thankful for. It's a reminder, too, for us all to live the ceremony's theme, "Light Out of Darkness."
As we anticipate the birth of our Savior, whose light shines upon us all, let us move from darkness into light and, in turn, let our light shine to help others through the glory of God. This month's postcard recognizes some of the many Toreros whose talent, commitment and compassion shine brightly for all to see.
From our family to yours, we wish you all a blessed holiday season. 

James T. Harris III, President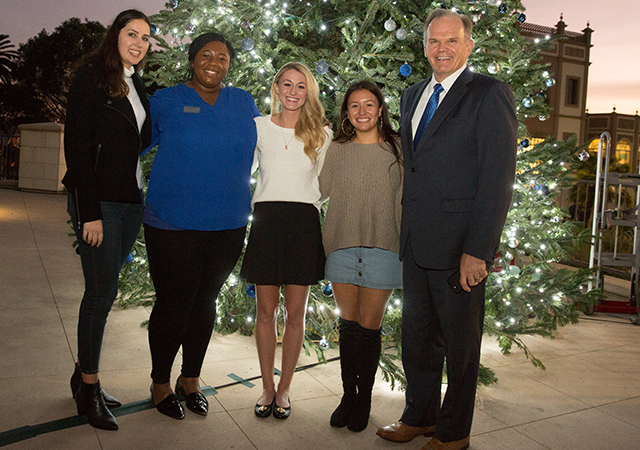 Many thanks to our student leaders who shared in the spirit of the season with their inspiring words during our Christmas Tree Lighting ceremony.
Follow President Harris on Instagram and Twitter, @USDPres
MEET THE 2024 VISIONARIES

USD IN THE NEWS FROM AROUND THE WORLD
The University of San Diego has a message for students who were once in the foster care system, homeless or at risk for homelessness.
"We recognize that things have happened to you in your past," said Dr. Cynthia Avery, assistant vice president for student life, "but this is a time to rewrite your story."
How much was a single vote worth in the D.C. State Board of Education elections? Those races gained increased visibility courtesy of generous donors who contributed more than $250,000 to 10 candidates vying for positions that hold little power. Evan Crawford, an assistant professor at USD, spoke on this issue.
They proudly wear the uniform of the U.S. military. We celebrate their service on Veterans Day. But when they suffer an injury, they are denied the right to claim damages in a court of law. What's more, they lack any recourse to present their grievances, writes Richard E. Custin, USD School of Business clinical professor.
Tree Lighting Celebrates, Symbolizes Call to  Help Others
The USD Christmas tree lighting ceremony's theme was "Light Out of Darkness." President Harris and multiple student leaders expressed the importance of one's light to shine bright, especially toward others. Harris touched on the "humanitarian crisis" at the U.S.-Mexico border. His words follow actions and events by USD entities who are leading efforts to support men, women and families seeking asylum.
USD Votes Promotes Voter Registration
The November 6 midterm election offered plenty of reasons why it is important to vote. In the lead-up to Election Day, students, staff and faculty sought to increase voter registration in the campus community and offered information sessions on the importance of voting. 
Volleyball in Sweet 16; Good Start for Basketball Teams
The USD sports landscape has a fall/winter overlap in November. The volleyball team earned its ninth straight trip to the NCAA Tournament and finished the month extending its season to December by reaching the Sweet 16. USD plays Wisconsin on Dec. 7 in Champaign, Ill. ... The football team, undefeated champions of the Pioneer Football League for a third straight year, lost at Nicholls State, 49-30, Nov. 24 in an FCS first-round playoff game  ... Men's basketball has a 5-2 record entering December with wins over Colorado, Long Beach State and Weber State. ... Women's basketball went 3-3 in November and closed with a 72-71 win over San Diego State. Visit USDToreros.com for more.
Suggested contributions to future issues of the President's Postcard can be sent to the Office of Digital Communications and Institutional Marketing at dcim@sandiego.edu.
Proud of all the great things happening at USD? Forward this email to a friend.