March was an exciting month for our students, offering rich, new reflections and experiences through Career Development's Torero Treks, University Ministry's Spring Breakthrough immersion trip, Women's History Month celebrations and other opportunities to nurture a commitment to changemaking. The Ahlers Center sent School of Business faculty overseas to witness global business practices firsthand. The men's basketball team got a healthy taste of postseason play, and our spring sports teams' seasons are well underway. I invite you to read more about the many exciting campus initiatives featured in this month's President's Postcard.

James T. Harris III, President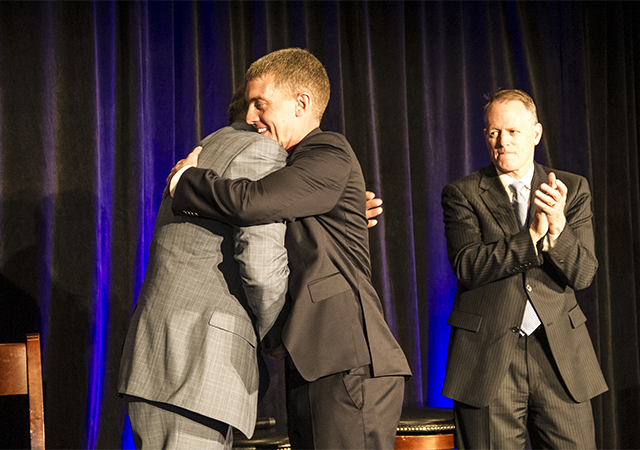 President Harris, far left, receives a celebratory hug from Sam Scholl at the latter's introduction as USD's new men's basketball head coach.
Follow President Harris on Instagram and Twitter, @USDPres
ENVISIONING 2024: Meet the Visionaries of 2024
USD IN THE NEWS FROM AROUND THE WORLD
Lack of reliable data on procedures and clinics in the U.S., and possible problems with frozen eggs and embryos, has contributed to a "regulatory vacuum," says Dov Fox, director of the Center for Health Law Policy and Bioethics at USD.
Paul Keener, academic director for USD's MS in cyber security programs, warns most people forget cyber security is ubiquitous; "it hits every part of the commerce sector, which means most companies are targets." 
Satyan Devadoss, USD professor of applied mathematics and computer science, explores the hidden dimension of complexity and wants us to go beyond the rigor of disciplines that are connected solely to STEM.
USD Selects Its New Head Men's Basketball Coach
Sam Scholl was introduced April 3 as the new head coach by USD Executive Director of Athletics, Bill McGillis. President James T. Harris, McGillis and Scholl spoke to a full Hahn University Center Forum A audience comprised of the current basketball players, students, alumni, administrators, staff and media. Scholl '01, a former USD player and assistant coach, expressed gratitude for becoming his alma mater's 13th men's basketball head coach.
Industry insights abound at BMC Real Estate Conference
More than 600 people, including USD real estate students, attended the March 1 program to hear from top industry leaders such as Prologis Chairman and CEO Hamid Moghadam, Gafcon Inc. CEO Yehudi Gaffen, PriceWaterhouseCoopers Partner/Real Estate Advisory Leader Mitch Roschelle, Holland and Knight LLP Partner, Jennifer Hernandez; and USD School of Business' Hahn Chair of Real Estate Finance, Dr. Norm Miller. 
Suggested contributions to future issues of the President's Postcard can be sent to the Office of Digital Communications and Institutional Marketing at dcim@sandiego.edu.
Proud of all the great things happening at USD? Forward this email to a friend.