I hope you had a blessed holiday season with family and friends and that Intersession was a productive time for you. It was certainly a productive time for USD.
Renovation of the Loma Hall Annex was launched in December to create new offices, labs and classrooms for the Shiley-Marcos School of Engineering. Our student-athletes were fully engaged, not only in their respective athletic competitions, but also in our local community. The men's basketball team renewed their annual tradition with the Poway Youth Basketball League's Challenged Division. I invite you to read more about the wonderful work of our Mulvaney Center, which is celebrating its 30th anniversary, and our University of the Third Age, which is celebrating its 40th anniversary of engaging life-long learners.
We are well positioned for an exciting 2018 spring semester. Go Toreros!

James T. Harris III, President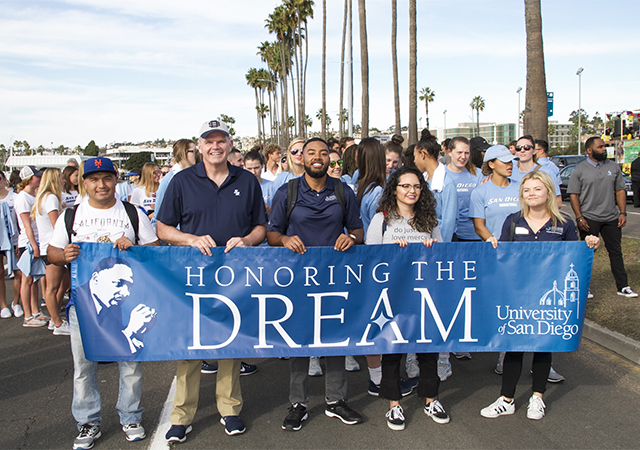 We had a great turnout from the USD community who marched in the MLK parade on Jan. 14. Special shout out to Torero Athletics & Associated Students!

Follow President Harris on Instagram and Twitter, @USDPres
2024 PATHWAY: ANCHOR INSTITUTION
USD IN THE NEWS FROM AROUND THE WORLD
A study by the Children's Advocacy Institute at USD School of Law "documents differences among states in how well their laws protect students from bad actors in the for-profit college industry."
Political Science and International Relations Professor David Shirk spoke on the impact a U.S.-Mexico border wall by the Trump Administration would have on stopping immigration and illegal drug activity. 
Economics Professor Ryan Ratcliff spoke at the USD-hosted 34th San Diego County Economic Roundtable on if the still expanding local economy is headed for a possible slowdown in the near future.
USD's inaugural Setting the Standard Symposium will take place Feb. 1-2 on campus. 
Three events, including the traditional All Faith Service, comprise the first-ever Setting the Standard Symposium at USD. "It is designed to catalyze meaningful dialogue around what it means to set the standard for an engaged, contemporary Catholic university," said President Harris. "The symposium will help us explore a campus wide conversation on how best to proceed on our path to the forefront of Catholic higher education."
Intersession Activity: Study Abroad, Honoring Dr. King, Conferences, Sundance Films and Father Greg Boyle
January Intersession was a time for study abroad trips, the campus community to participate in the Dr. Martin Luther King Jr. Parade, USD schools to host conferences on education, nonprofit governance and peace and social justice, Homeboy Industries' Fr. Boyle discussed kinship, and alumnus Jared Ruga debuted his documentary, Quiet Heroes, at the Sundance Film Festival.
Suggested contributions to future issues of the President's Postcard can be sent to the Office of Digital Communications and Institutional Marketing at dcim@sandiego.edu.
Proud of all the great things happening at USD? Forward this email to a friend.