In April, our mission and core values were visibly in action. We honored Forest Whitaker with the USD Medal of Peace for his humanitarian efforts; celebrated 10 Toreros who embody our mission at Alumni Honors; had inspired entrepreneurial student teams share innovative ideas; highlighted research conducted by students, faculty and staff during Research Week; the men's tennis team had WCC title successes; and graduating senior Christina Saad was a terrific choice as USD's President for a Day — I know it, too, because I took on her class schedule and learned a lot! Enjoy learning about it all in the President's Postcard.

James T. Harris III, President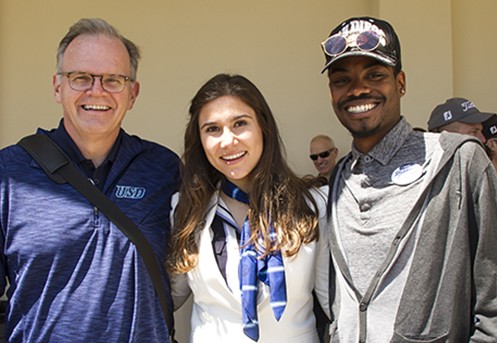 The fireside chat was one of the many activities on Christina Saad's and James Harris' schedules during USD's President for a Day on April 26.
Follow President Harris on Instagram and Twitter, @USDPres
ENVISIONING 2024: Meet the Visionaries of 2024
USD IN THE NEWS FROM AROUND THE WORLD
A rise in the homeless population is an issue that USD Trustee Peter Seidler, majority owner/managing partner of the San Diego Padres and CEO of Seidler Equity Partners, and businessman Dan Shea, owner of Donovan's restaurants, are working on with community leaders to find solutions.
USD alumnus Edred Utomi has served as the standby for "Hamilton" principal Austin Scott on the touring production of the hit play since mid-March. Utomi generally steps into the top role on the first Thursday of the show's run in a new city. He then plays the part on Tuesdays.
Skechers U.S.A. Inc., TiVo Corp., and other California-based companies that have only men on their boards would need to add at least one woman under a bill being considered in the state's legislature. University of San Diego Finance Professor Annalisa Barrett did research analysis on California's situation.
Suggested contributions to future issues of the President's Postcard can be sent to the Office of Digital Communications and Institutional Marketing at dcim@sandiego.edu.
Proud of all the great things happening at USD? Forward this email to a friend.