Channel Islands Adventure I: Honors Program
The Channel Islands National Park, established in 1980, is one of the least visited National Parks despite its proximity to Los Angeles. Step back in time and experience the Southern California coast the way it once was.
Camp and explore Santa Cruz Island, the largest island off the California coast. One of the most visited islands in the park, Santa Cruz is the perfect place to hike, kayak and snorkel. Craggy coastline cliffs, giant sea caves, a kelp forest and great underwater visibility makes this island appealing to adventure seekers.
Dolphins, whales, sea lions, garibaldi fish, sea birds, and the endemic island scrub jay and island fox are some of the wildlife we can anticipate seeing.
Santa Cruz Island is also rich in cultural history with over 10,000 years of American Indian habitation and 150 years of European ranching. Remnants of the ranching era are visible throughout the island.
Two-thirds of Santa Cruz Island is preserved by the Nature Conservancy and they are working along with the National Park Service to restore and protect island resources.
Activities for this trip include: hiking, kayaking, and snorkeling.  Hiking on Santa Cruz islands is strenuous on the legs. The trail conditions, while maintained, are very steep at times and fully exposed to the unrelenting sun and wind. We could be hiking for the majority of 6-7 hours during our full day hike, while other days will include shorter hikes lasting 2-3 hours. Single and tandem sit-on-top kayaks will allow us to explore the rugged shoreline.  Kayaking conditions are dependent on the weather and ocean conditions.  We anticipate moderately challenging conditions that will have us paddling about 5 miles. 
Trip members should be in good physical condition for hiking on steep terrain and capable of carrying a daypack of approximately 10-15 pounds filled with water, lunch and other essentials (covered during pre-trip presentation). From now until the trip begins, we highly encourage you to get in shape. If you can comfortably hike up and down hills and on uneven trails with a 15 pound pack at a pace of about 2 miles per hour—consider yourself prepared for the hiking portion of this trip.
| | |
| --- | --- |
| Day 1 | Check in at the Outdoor Adventures office at 9:00am and meet your small group of adventurers. Get to know your group on campus.  We will review clothing and equipment and make final preparations for an afternoon departure.  Our first night we will camp near Ventura and prepare for our ferry tomorrow morning. |
| Day 2 | After a short drive to Ventura Harbor, we will travel by boat to Santa Cruz Island and set up base camp while learning about the island during a stop at the visitor's center. (Look out for some furry local residents such as the endemic island fox) |
| Day 3 | Day hike to some of the island's top destinations, including Potato Harbor. |
| Day 4 | Meet up with our kayaking guides from Channel Islands Adventure Company and get ready for a kayak tour of the sea caves. After paddling we will move underwater for a snorkel tour of a kelp forest. |
| Day 5 | Day hike to a remote beach/take in the panoramic view from atop Montanon Ridge. This spectacular view is one of the best in California. |
| Day 6 | Today we depart the island in the morning and return to the mainland. We will travel back to USD by late afternoon. |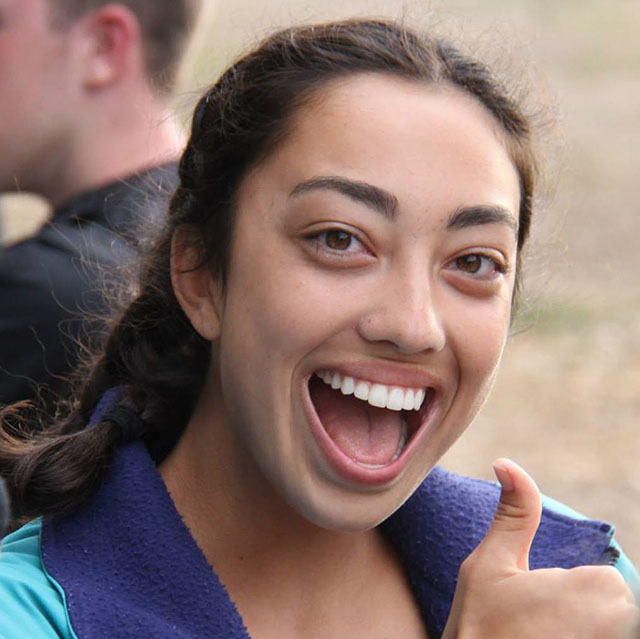 "Pre-O was immensely helpful in my transition to USD. I was able to immediately form friendships with my future classmates. I think being in a Pre-O environment really helps everyone get to know each other far better and quicker because everyone is so present, excited to be there, and authentically themselves. It was also great to talk to student leaders who had been through exactly what were going through in the transition to college and gave us advice that alleviated my anxieties and nervousness. It was a really amazing feeling to go back to campus and already have people who I knew and could say hi to; I definitely felt a stronger sense of belonging and community at USD from the outset thanks to Pre-O."
Previous Channel Island I Pre-O Images