Contact:
School of Peace Studies

Email: peacestudies@sandiego.edu
Phone: (619) 260-7919
Fax: (619) 849-8109

Location: KIPJ Room 113
Joan B. Kroc School of Peace Studies
5998 Alcala Park
San Diego, CA 92110
>
Biography
Jeff Hugger
Operations and Events Manager
Jeff Hugger joined the University of San Diego in 2011 as Operations and Events Manager in the Joan B. Kroc School of Peace Studies. As such he manages the Joan B. Kroc Institute for Peace and Justice facility, which houses the school and features classrooms, offices and more than 15,000 square feet of meeting and conference space, and the Casa de la Paz, a four unit guest residence.

Mr. Hugger has 20 years of hotel sales and marketing, convention services, and catering management experience. Most recently, he was Director of Sales and Marketing at the Handlery Hotel, San Diego. Prior to the Handlery, he held Director of Convention Services, Director of Catering, and Food and Beverage Director positions at hotels in Minnesota. He holds a Culinary Degree from Saint Paul Technical College and is an experienced cake decorator.
Contact Information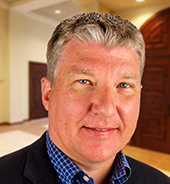 Email | jhugger@sandiego.edu
Phone | (619) 260-4825
Office | KIPJ 134