Contact:
School of Peace Studies

Email: peacestudies@sandiego.edu
Phone: (619) 260-7919
Fax: (619) 849-8109

Location: KIPJ Room 113
Joan B. Kroc School of Peace Studies
5998 Alcala Park
San Diego, CA 92110
>
Biography
Don Trinh
Development Coordinator
B.A. Philosophy (2001)
B.A. Theology and Religious Studies (2001)
Sacrae Theologiae Baccalaureus (2003)
Sacrae Theologiae Licentiatus (2005)
Interests: Higher education, Catholic universities and administration, history of leadership, city government, urban planning, and public service.
Don Trinh is from Los Angeles and earned undergraduate degrees in Philosophy and Theology at Saint John's Seminary College in Camarillo, California. He obtained Bachelor's (S.T.B), Licentiate (S.T.L.) and Master's degrees (M.A., M.A.S.) in Theology and Religious Studies at the Catholic University of Louvain in Belgium. His thesis was titled: Deacons and Diakonia: The Spirituality and Ministry of Service – A Critical Study of the Permanent Diaconate. Don has worked for the international student magazine of Leuven and was the billing manager of Myrient Inc., an internet-DSL company in Aliso Viejo, CA. He joined the University of San Diego and the SOLES Development Office in January 2006, began the Leadership Studies doctoral program in September 2007, and helped build the new Joan B. Kroc School of Peace Studies as the dean's assistant from 2007-2013. He is currently the Development Coordinator.
Contact Information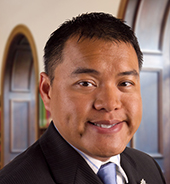 Email | don@sandiego.edu
Phone | (619) 260-7919
Office | KIPJ Suite 113