Emily Nagisa Keehn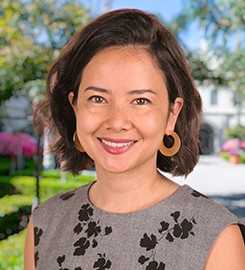 Office:
Kroc Institute for Peace & Jus 123
Assistant Dean of Graduate Programs
JD, University of California Los Angeles School of Law

BA, Anthropology, University of California San Diego
Emily Nagisa Keehn, JD is the Assistant Dean of Graduate Programs. As Assistant Dean, she is the key administrator for the masters and joint degree programs at the Kroc School. She oversees enrollment, curriculum management, program assessment, and student services.
Keehn came to USD from Harvard Law School's Human Rights Program, where she was Associate Director for the Academic Program. Her scholarship and advocacy primarily focuses on the intersection of human rights issues with criminal justice, gender, sexuality, and health.
Keehn previously worked in South Africa where she was the head of policy development and advocacy at Sonke Gender Justice. At Sonke, she developed cases for strategic litigation, and directed parliamentary engagement, research, and advocacy related to health, gender equality, sexual and gender-based violence, policing, and penal reform.
Keehn has published her scholarship in Feminist Criminology and the Health & Human Rights Journal, presented before the South African Parliament, and has helped shape national policies on corrections, gender, and health. Her media commentary has included the Guardian, Al-Jazeera, the Mail & Guardian, the Huffington Post, CNN, and United Nations IRIN News.
Previously, Keehn worked for the Health & Human Rights Law Project at UCLA School of Law and was a Women's Health & Empowerment Fellow through the University of California Global Health Institute. She also held positions with the Annenberg Foundation, mothers2mothers, Legal Aid of Cambodia, and Relief International. Keehn has a BA in Anthropology from UC San Diego, a JD from UCLA School of Law, and is a member of the State Bar of California.
Scholarly Work

SELECTED WORK
ARTICLES
Health, Human Rights, and the Transformation of Punishment: South African Litigation to address HIV and Tuberculosis in Prisons
Health and Human Rights Journal, Vol 20, Issue 1, (June 2018) Co-author: Ariane Nevin
Decriminalization and the U.N. Human Rights Bodies
Human Rights Program Research Working Paper Series 18-002 (March 2018)
Uneven and Still Insufficient: South African Police Services' Station-Level Compliance with Sexual Offences Laws
9 Feminist Criminology 87, (2014) Co-authors: Lara Stemple, Cherith Sanger, and Dean Peacock
The Equality Courts as a Tool for Gender Transformation
UCLA Center for the Study of Women Thinking Gender Papers (2010)
POLICY BRIEFS
Pollsmoor: Reducing overcrowding in a South African remand detention facility
Evidence for HIV Prevention in Southern Africa (EHPSA) Case Study (August 2018) Co-author: Ariane Nevin
Current Practices to Increase Uptake, Retention and Adherence for Option B+ in Malawi
mothers2mothers Malawi (October 2014) Co-author: Julie Karfakis
Evaluation of South Africa's Judicial Inspectorate for Correctional Services
Sonke Gender Justice (July 2013) Co-authors: Nomonde Nyembe and Tanya Sukhija
COMMENTARY
When America had an open prison - the story of Kenyon Scudder and his 'prison without walls'
(The Conversation, 6/14/2019) Co-author: Dana Walters
How Mass Incarceration Harms U.S. health, in 5 Charts
(The Conversation, 1/31/2018) Co-author: J. Wesley Boyd
Investing in International Human Rights in the Age of Trump
(Human Rights Program Blog, 12/15/2016) Co-authors: Anna Crowe and Yee Htun
Justice is Long Overdue for the Widows of South African Mineworkers
(The Guardian, 10/25/2016) Co-author: Dean Peacock
Overcrowded Jails Deadly, Inhumane
(Bhekisisa, Mail & Guardian, 06/05/2015) Co-authors: Clare Ballard and Czerina Patel
Miners Seek Justice Over Killer Dust
(Mail & Guardian 03/06/2015) Co-authors: Dean Peacock and Anele Yawa
South African Prison Rape Survivors Speak Out for the First Time
(The Huffington Post 12/08/2014) Co-author: Sasha Gear
Break the Silence on HIV in Prison
(Mail & Guardian 04/11/2014)
Prison Rape is No Joke
(Pretoria News 07/24/2013) Co-authors: Sasha Gear and Mbuyiselo Botha
South African Police Much Too Macho
(Mail & Guardian 03/06/2011) Co-author: Dean Peacock
Map
5998 Alcalá Park
San Diego, CA 92110