Spring Break Southwestern Road Trip
Begin quote

This trip will explore some stunning landscapes and challenge the belief that our National Parks are America's best idea.
Do you want to try out van life? Travel with us, by van, throughout Southern Nevada and Northern Arizona on an 8-day/7-night road trip exploring some of the most iconic landscapes of the West. Our primary destinations are the towns of Bluff and Blanding Utah, located adjacent to Bear's Ears National Monument, where we will learn about the history, people and politics of this region.  We will visit Zion National Park, Escalante National Monument, Horseshoe Bend, Lake Powell and more on our drive to Blanding, Utah, where we will spend a couple of days exploring and learning.  Our return drive will be highlighted by dinosaur footprints, Monument Valley, and a visit to the Grand Canyon National Park.  
President Obama designated Bears Ears National Monument in 2016 and less than a year later, President Trump reduced the monument's size by 85%. Protection for this monument was long overdue and was the result of coordination by five sovern Native nations and the Bears Ears Inter-Tribal Coalition.  Bears Ears National Monument is at the epicenter of the debate about Federal Public Lands, State Authority over land within it's border, mining and mineral extraction, and the importance of protecting Native American Traditional Knowledge that is directly linked to the land.
Other stops will allow us to engage and immerse ourselves in the environment and communities nearby.  We'll explore tourism and the local economies to discover how they are directly connected with outdoor recreation and the polices set forth by local, state and national politicians.  
Adventures of a Lifetime
Get inspired to make the world a better place while having an adventure of a lifetime. It will be a spring break to remember and possibly a turning point in your USD career.
Trip Details
Dates: February 29th - March 7th, 2020
Registration Deadline: February 18, 2020
Pre-Trip Meeting: February 18 @ 12:30pm in UC 129
Cost: $595 
*Includes housing, transportation, food and activities. Financial assistance available.
Associated Students Get Involved Funding request:
https://docs.google.com/forms/d/e/1FAIpQLSfZVxU9xVUVp3uIAASfgPkd-mJutRPdEXs4spiuoFpRfmePKA/viewform
Please contact Mark Ceder at 619-260-4709 or explore@sandiego.edu for more information.
Itinerary
Saturday (2/29) - Depart USD and drive to Zion National Park
Sunday (3/1) - Dayhike and explore Zion National Park
Monday (3/2) - Explore Zion National Park, Day Hike a slot canyon, Drive to Page, AZ
Tuesday (3/3) - Explore around Page, AZ and afternoon drive to Blanding, UT
Wednesday (3/4) - Hike and explore around Bears Ears
Thursday (3/5) - Hike and explore around Bears Ears
Friday (3/6) - Drive to Monument Valley and then explore the Grand Canyon in the afternoon.
Saturday (3/7) - Drive to USD
Photos and Videos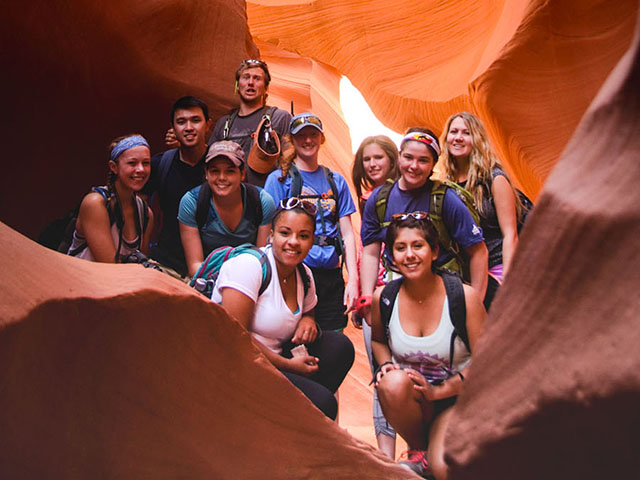 2014 group in Antelope Canyon
Websites:
Bears Ears Inter-Tribal Coalition
Bears Ears Education Center
Grand Canyon Trust: Bears Ears
 Videos: