Research Week at USD 2019
Please join us for Research Week—a celebration of the many research activities at USD. This multi-faceted showcase will focus on the importance of research at the university, and will include various events, open houses and demonstrations.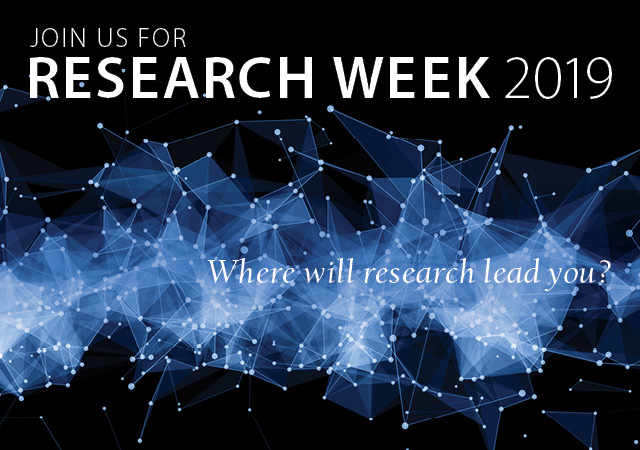 April 5 through April 12, 2019
University of San Diego
Student-Faculty Research, Scholarship, Creative Works
Research Week is free and open to the public, so please join us!
By teaching we learn. Through research we grow.
Friday, April 5
9:30 am – 1:30 pm | Salomon Lecture Hall, Maher Hall
Discover the Secrets Within the Folds
Jump into Research Week by joining this folding and mathematical exploration journey to discover something beautiful! The event will conclude with a campus-wide mathematics scavenger hunt.
---
Saturday, April 6
8:00 am – 5:00 pm | Shiley Center for Science and Technology and the Paseo de Colachis
West Coast Biological Science Undergraduate Research Conference (WCBSURC)
The West Coast Biological Sciences Undergraduate Research Conference (WCBSURC) is a one-day event featuring oral and poster presentations by undergraduates throughout the United States. The goals of the conference are:
1) to provide a forum for undergraduate researchers to present original data they have generated in biology and related fields;
2) to foster intercollegiate interactions among students and faculty who share a commitment to undergraduate research in the biological sciences.
History:
In 1976, Dr. William Eisinger, a professor of biology at Santa Clara University, founded the WCBSUR Conference. Santa Clara hosted the conference every year through 1985. Since then, other institutions have participated as hosts, including Point Loma Nazarene University, the University of San Francisco, Loyola Marymount University and the University of California at Irvine, to name a few.
---
Monday, April 8
12:00 – 12:45 pm | Humanities Center, Serra 200
How I Became Interested in Humanities Research: A Keck Humanities Fellows Discussion Panel
Meet the 2018-19 Keck Humanities Fellows as they discuss their experience working on a year-long, independent research project. They will share their insights into the fellowship, engaging with scholarly interdisciplinary research, and working in collaboration with their faculty mentors. Following the panel discussion will be a Q&A session along with information about how to apply for the 2019-20 Keck Humanities Undergraduate Research Fellowship.
4:00 – 5:30 pm | Kroc Institute for Peace and Justice - Garden of the Sea
Faculty Recognition Reception
Join the Vice President and Provost and the Office of Sponsored Programs for a wine and cheese reception honoring faculty members and staff who have submitted grant proposals. This event is by invitation only.
---
Tuesday, April 9
12:30 – 1:30 pm | Location: La Gran Terraza Terrace
Outstanding Undergraduate Research Mentor Award (OURMA) Mixer
The Outstanding Undergraduate Research Mentor Award (OURMA) Mixer recognizes research mentors who bring respect and excellence to the practice of mentoring undergraduates in research and scholarly activities, and who have a long-standing commitment to the development of research scholars.
12:30 – 1:30 pm | Belanich Engineering Center Ideation Space
Engineering & Computing Research Week
Student-faculty research and collaborations featured in poster format.
4:00 – 5:20 pm | Humanities Center, Serra Hall 200
Idea of Truth Series - Truth and Lies in Politics
In spring 2018, the Humanities Center began a major and ambitious exploration of the three underlying concepts that constituted the foundation of USD at its inception: beauty, goodness and truth. In the words of Mother Rosalie Hill, "Beauty will attract them, goodness will lead them, but the truth will hold them." Having examined the concepts of both beauty and goodness, we complete the series with an investigation into the idea of truth, approached from a range of perspectives and disciplines. Each session consists of three presentations by experts drawn from USD's College of Arts and Sciences. At a time when the very idea of truth appears to be under attack, this semester long investigation takes on topical and urgent significance.
4:00 – 6:00 pm | Beginning in the Shiley Center for Science and Technology
Torero TRIO Takeover
Please join University of San Diego TRiO students and staff who are affiliated with McNair Scholars, Student Support Services and Upward Bound in a research crawl. We begin in the Shiley Center for Science and Technology, swing through the Shiley-Marcos Engineering Building and end with a debrief (with snacks) in Student Support Services (UC 113). Along the way we will enjoy intriguing and insightful lab presentations and poster presentations from our TRiO students, and recognizing valuable partners.
---
Wednesday, April 10
12:00 – 2:30 pm | Mother Rosalie Hill Hall
Diversity, Inclusion & Social Justice Excellence Showcase
Join an interactive poster session and panel addressing such topics as diversity, inequality, multiculturalism, inclusion, and historically underserved populations. We hope to create an opportunity for faculty, staff and students to discuss issues of diversity and social justice in the contexts of education, counseling and family therapy, and leadership.
2:00 – 4:00 pm | Mother Rosalie Hill Hall 259 (Jacobs Institute)
Virtual Reality Lab
Come experience the potential of virtual reality to empower your research.
4:30 – 5:30 pm | Humanities Center, Serra Hall 200
More Human Series – Faith
More Human is a live storytelling event curated around different themes each month. Storytellers share meaningful experiences or challenges they've overcome, each providing insight into the human condition. The event is cosponsored by the Humanities Center and Changemaker Hub, and facilitated by the student-produced podcast, There's More.
---
Thursday, April 11
12:00 – 2:00 pm | Hahn University Center, Forums A-C
Creative Collaborations Undergraduate Research Conference (CCURC)
The 29th Creative Collaborations Undergraduate Research Conference will feature multidisciplinary presentations of student-faculty research, scholarship and creative works. CCURC29 will be held in the Hahn University Center, Student Life Pavilion Exhibit Hall and La Gran Terraza patio.
12:00 – 2:00 pm | Hahn University Center Foyer
Military and Veterans Center Table
The USD Military and Veterans Center is recognized as one of the best in the nation for the support provided to our military population. The program uses a student-focused approach to work with all military-connected students from initial consideration through alumni status.
4:00 pm | Warren Hall 131
Psychological Sciences' Legacy of Behavioral Neuroscience at USD: Celebration of the Career of Professor Emeritus Dan Moriarty
Congratulate Dr. Moriarty on his accomplished career at USD, and network with current students and faculty in the department. The Psychological Sciences Department is excited to showcase all the recent changes in the department, and hear what their alumni have been doing since graduation!
---
Friday, April 12
12:00 – 3:00 pm | Shiley Center for Science and Technology, Camino Hall, Serra Hall and Loma Hall
Lab Crawl
The lab crawl is an opportunity for the USD community to learn about student-faculty research in STEAM while visiting laboratories in Camino, Loma and Serra Halls, and in the Shiley Center for Science and Technology. Participants collect stickers at each lab station to redeem for free pizza and raffle prizes.
3:00 pm | Department of Psychological Sciences, Serra Hall 116
Research Student Data Blitz
The department of Psychological Sciences will display posters of research done by our Behavioral Neuroscience majors, and students will provide a brief, 3-5 minute overview of their work. There will be plenty of time for informal questions and answers, and discussion of research opportunities within the department.
---
Related Links