Adult-Gerontology Clinical Nurse Specialist
Be more than a nurse. Be a voice for the vulnerable.
At the Hahn School of Nursing, compassion informs our deep commitment to alleviating suffering. Healthy aging is one focus of that mission, and it comes to life in our Adult-Gerontology Clinical Nurse Specialist (CNS) program—a specialty within our Master of Science in Nursing program.
This robust program prepares nurses for the advanced practice role caring for adults and geriatric patients across healthcare settings. Our students master their skills as expert practitioners, educators, consultants, researchers and clinical leaders. Educating fellow nurses, helping with patient care problem-solving and establishing healthcare programs are just a few of the skills you'll build and refine.  
As one of the top graduate nursing schools in the country, we surround you with faculty who are more than nurse scientists and advanced clinicians themselves; they are mentors, advocates and friends. And they're here to take the next step of your nursing journey with you.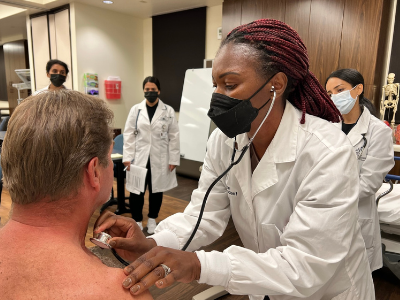 The Adult-Gerontology CNS program prepares nurses for an advanced practice registered nurse (APRN) role as an expert in the care of adults across a variety of health care settings such as hospitals and clinics, as well as their own private practice. Advanced practice as a CNS involves practicing nursing within the three spheres of influence (patient, nurse and organization system) in order to operationalize five CNS role components: expert practitioner, educator, consultant, researcher and clinical leader.
As expert practitioners, CNSs provide direct and indirect care to specialized populations. As educators, CNSs teach patients, families, staff nurses, students, and communities regarding health. As consultants, CNSs assist with problem solving regarding patient care including facilitating support groups and establishing health care programs. CNSs also assist with research and promote research dissemination and evidence-based practice in the practice arena. As clinical leaders, CNSs are responsible for program development, quality improvement processes, and managerial operation and activities.
CNS students at USD are able to focus in different areas of adult-health such as critical care, emergency, medical-surgical and palliative care. In addition, students may take elective courses in nursing education theory and teaching practicum as well as health care informatics.
The program prepares CNSs for their role in the rapidly changing health-care environment. The use of health care informatics and technologies, data-driven decision-making and interdisciplinary collaboration form the basis for application of class content. Students have practicum experiences with expert preceptors in a practice area of interest, and their capstone practicum consists of an evidence-based clinical project.
Graduates are eligible for certification as Clinical Nurse Specialists in the state of California and for national certification as Adult-Gerontology Clinical Nurse Specialists by the American Nurses Credentialing Center and the American Association of Critical Care Nurses (AACN).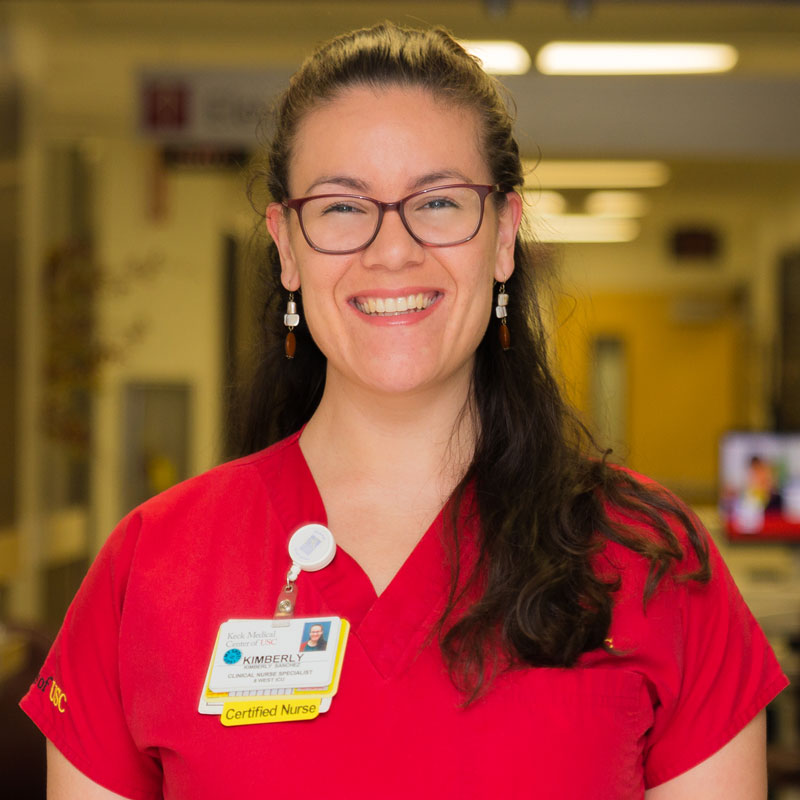 Alumni Testimonial
"I spent weeks looking into graduate nursing programs and after attending USD's open house, I knew USD was where I wanted to learn how to become a clinical nurse specialist.  Within my first few months at USD, I was introduced to the PhD program as a Dean's Graduate Merit Scholar. In learning about the CNS role and completing required coursework, it became clear to me how a research doctorate aligned with my reasons for becoming a CNS. I love answering clinical questions and I knew I needed to be equipped to answer clinical questions for which there was limited or no supporting evidence. It is because of the mentorship and guidance offered by the professors at USD that I successfully transitioned into practice as a CNS in 2016 and as a researcher most recently. I love everything about the CNS and PhD in Nursing programs USD!"
- Kimberly Sanchez, PhD, RN, CNS
Program Outcomes
Use a holistic perspective in the advanced nursing management of health, illness, and disease states to promote health or well-being and improve the quality of life of patients, families, and groups of patients.
Consult with patient, staff, or other professionals to assist with complex problem solving.
Manage change to influence clinical practice and political processes both within and cross systems.
Empower others to influence clinical practice and political processes both within and across systems.
Work jointly with others to optimize clinical outcomes using authentic engagement and constructive patient, family, system, and population-focused problem-solving.
Employ skillful guidance and education to advance the care of patients, families, groups of patients, and the profession of nursing.
Apply an evidence-based approach in clinical practice and quality improvement.
Act on ethical concerns at the patient, family, health care provider, system, community, and public policy levels.