Naval Reserve Officers Training Corps
Developing young men and women morally, mentally, and physically, and to instill in them the highest ideals of honor, courage, and commitment.
Welcome Aboard NROTC San Diego Consortium
The Naval Reserve Officers Training Corps San Diego Consortium was established in the summer 1982.  It is composed of two individual units, NROTC University of San Diego and NROTC San Diego State University. The Battalion has grown from an initial cadre of 28 to its current strength of over 200 students. This includes Midshipmen, active duty Marines participating in the Marine Enlisted Commissioning Education Program (MECEP), and active duty sailors who have been selected for the Seaman to Admiral 21 (STA-21) Officer Candidate program. The NROTC consortium has offices and offers Naval Science courses at both USD and SDSU campuses.
Spring 2019 Newsletter
The fall semester was filled with tremendous growth by all of our midshipmen and active duty. We welcomed a new class to begin their journey as future officers of the United States Navy and Marine Corps.  Read more in our semi-annual newsletter!
San Diego Cross-Town Affiliates
Several universities in the San Diego area are affiliated with the NROTC San Diego Consortium.  Students from these universities are able to participate with the unit, providing more diversity, resources, and leadership opportunities:
NROTC University of San Diego
Point Loma Nazarene University
NROTC San Diego State University
University of California San Diego
California State University San Marcos
Professional Clubs
Midshipmen Ranks
San Diego Fleet Concentration
Formal Events
Physical Fitness
Active Duty Students
Virtual Simulators
Upcoming
Events
Friday, November 1, 2019

// 6 p.m.

TBD

Friday, November 15, 2019

// 6 p.m.

TBD

Friday, December 20, 2019

// 10 a.m.

TBD
Recent
Spotlights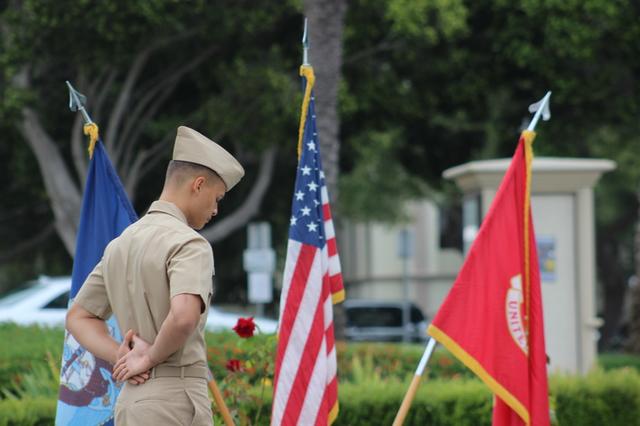 September 12, 2019
On Wednesday, September 11th, NROTC San Diego partnered with University Ministry to hold a service at the IPJ Garden of the Sea's 9/11 Memorial. The e…
Official Links