SOLES Alumni Help MAAC Reach New Contract With Union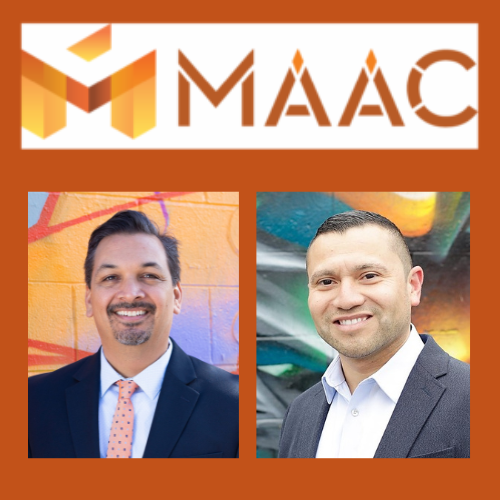 San Diego Union-Tribune
With the help of SOLES alumni Arnulfo Manriquez '05 (MA) and Adolfo Ventura '07 (MA), the Metropolitan Area Advisory Committee (MAAC) was able to reach an agreement with its union workers for a new three-year contract. Arnulfo is a graduate of the Master's in Nonprofit Leadership and Management program, and he is the President and Chief Executive Officer at MAAC. Adolfo is a graduate of the Master's in Leadership Studies program, and he is the Vice President and Chief Operating Officer at MAAC.
Alumni from the Department of Leadership Studies, Arnulfo Manriquez '05 and Adolfo Ventura '07, helped the Metropolitan Area Advisory Committee (MAAC) reach an agreement with SEUI Local 221, which represents MAAC's unionized workers. 10 months and more than 25 unsuccessful bargaining sessions ended in a new three-year contract that went into place on August 18, 2022.
We sat down with Arnulfo and Adolfo to learn how their education from SOLES and their relationship with The Nonprofit Institute helped them through this process over the past year.
When asked what lessons from SOLES or The Nonprofit Institute helped to guide them through the negotiations:
Adolfo said, "Overall, when thinking about what we learned from the program at SOLES, clearly, it's about staying grounded and reminding ourselves that we're doing it for the betterment of the organization. At the end of the day, we have a fiscal responsibility, we're responsible to the board, to funders, to the community at large, and we can't just be single-focused. I think from that perspective, there are many lessons, right? It takes you back to different times when you encountered those difficult situations. I remember thinking as a student, Oh, that's an easy decision. But it's not that simple, and every decision that's made comes with three or four other decisions that need to be made along with it. But I think for us, having Arnulfo's leadership as someone who has gone through the program at SOLES - he was a great support in decision-making. We look at things very differently. Arnulfo has a lens of looking at things in a way where he's seeing certain things, I might be seeing certain things, and at one point we're crossing over in a compliment."
Arnulfo commented, "From looking through the nonprofit lens, a year before we started negotiation, we decided we would need to lift our staff more like our unions have. We can't lift everybody the same way because financially, it's not attainable. But we needed to raise our staff in a way that was much higher than in previous contracts. We needed to increase specifically teachers and case managers in our child development programs. When we approached the union with this great package, we started high and the union decided they were going to go high, too. So when it's a testament of leadership, we thought that it was going to be a fast contract, but they said, 'no, we thought there was a lot more money'. So we had to stay grounded. I would equate it to being comfortable with silence, and that's part of our leadership class. We use language, and we use the lingo within our meetings and conversations. Not that we stayed quiet, it's just that we didn't voice as much, because we don't want to be in a fight with our staff and with our union."
Adolfo added, "Arnulfo not being in the negotiation room was very key for me. For me, being in that room - I was experiencing things differently than Arnulfo. I appreciated his point of view on certain things, because mine could have been already blurred with my experience with the interaction itself. There'd be times where I would call him randomly to talk for a little bit. We would talk a little bit, and he'd help put me in a different position and in a different place, and I'd go back in there. Those things are real. They're important, like Arnulfo said."
When asked how the morale and culture has shifted as a result of this past year:
Adolfo noted, "Arnulfo and our team, we did something that hadn't really been done in the past where we were providing union negotiating updates. We provided basic updates on information that had been made available in public to all the other union members, to our staff, to our management staff, and to our leadership team - and I think that made a huge difference. Arnulfo would get emails in response to his negotiation updates. The folks would respond, saying, 'I wish we closed, this is fantastic, I need this, and this is great'. Also, letting our directors know that the negotiations weren't personal, that these are our colleagues, these are our friends here at MAAC. They are the same individuals that are out there doing great service every day to those that we serve and need it the most.
But as soon as the agreement was reached, instead of being a sense of relief, I think it was also a sense of joy for supervisors and everybody else that they, our staff, finally were able to go and get what we wanted to essentially put on the table a year ago
.
Arnulfo said, "I want to add the point about the morale. I think that once we got the contract and once the pay period started coming in, people realized there was a bigger impact on their paychecks. Over the last couple of months, we also negotiated better health benefits, plans, and structure. We're switching over to Aetna, but it was very competitive where there were substantial savings in the cost over the next two, three years. We are very happy that we aren't doing any increases in health benefits, because that rhetoric could be 'you gave us an increase, but then you increased our contributions for health benefits.' But instead it's, 'we get an increase, and then we get a decrease in our out of pocket.' The increases that we had are actually higher because of the savings. Some of the staff members, depending on the plan they choose, may have no out of pocket expense, and they haven't had that in eight years. We are in a position of strength with some of our operators and benefits, and we are always negotiating and going out to bid."
Wrapping it up...
Adolfo closed by saying, "It's a lot of self-reflection and a lot of the different strategies that we've learned in the program. The network of professional friends and colleagues that we have from the nonprofit program makes us very lucky here at MAAC because we have several graduates from that program here. It's interesting because I'll look at my peers, and some of them say 'hey, forget the three letters after your name and title' and they'll want to talk to each other as someone from the same program, and talk from a leadership lens because it helps to just get things out. All that to say, there's different levels of it and naturally what we've learned through the program is ingrained in every single one of us. We see year after year how SOLES has done amazing things with The Nonprofit Institute and all the research that comes up. We're called for panels, for data and research, and all that keeps us up-to-date on things that are meaningful. It reminds us that there's different layers to being successful in a nonprofit. It's okay for not everybody in our workforce to understand, because they're going to see it through their lens and it's our job to ensure that we are able to - at the very least - bring clarity to the different layers of what it takes to run a nonprofit like MAAC with this budget and workforce size
."