USD Rugby's Band of Brothers are Having Serious Fun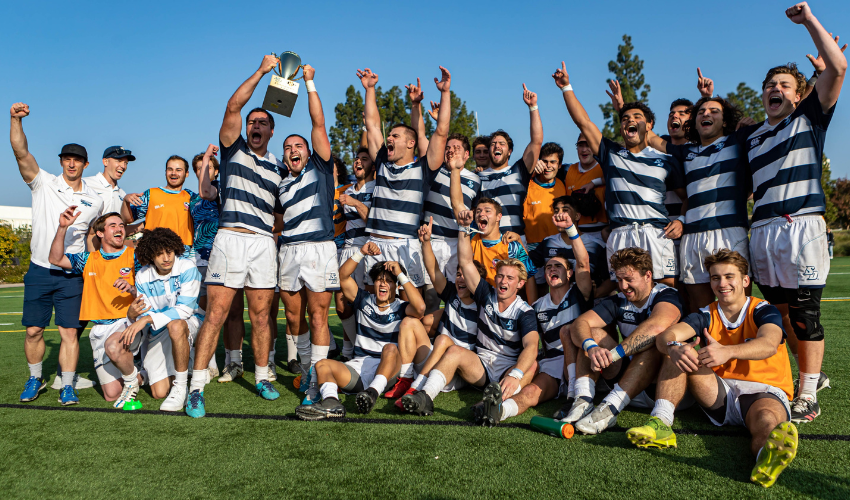 Nicholas Classen wanted to be a part of something big when he arrived at the University of San Diego. A high school water polo player, he thought he'd try out for USD's team, but didn't feel a spark. He then decided to go back to his roots and give rugby a try since he'd played for several years before his water polo days.
As he was walking along the Alcalá Bazaar, he crossed paths with USD Rugby.
"Hey, you look like you play rugby," said one of the men standing at the tent. It was enough to cause Classen to stop in his tracks. The man quickly pulled him out of the lineup of students and began his elevator pitch.
"He forced me to put my name down on the paper," recalls Classen, now a fourth-year senior studying mechanical engineering in the Shiley-Marcos School of Engineering. "I was apprehensive because these guys were all giants, but I figured, 'I've gotta do something.'"
Classen stands at 6'2, which made him one of the shortest men on the Manchester practice field. Regardless, he showed up to USD Rugby's first practice wearing a Mater Dei High School T-shirt and exuding confidence.
"I felt like a big shot and that shirt just got ripped off my back," laughs Classen. "It was symbolic of a new start. I had to relearn everything."
But Classen wasn't discouraged. He came back for the second day of practice and hasn't missed one since.
Part of that discipline stems from head coach Charlie Purdon who's omnipresent at practice. At times, he stands off to the side, watching every move like a father you don't want to disappoint. At other times, he's in the middle of the scrum reminding the men that while they're younger than he is, they still have a lot to learn.
"We've had to work hard to get to this point," says Purdon. "It's a club sport in the sense that we like to have fun, but I like to say it's serious fun."
Purdon was born and raised in South Africa where "rugby is a religion," much like football is in the U.S. He played organized rugby starting at the age of six and after high school attended a rugby academy where he played grade-aged rugby for a professional team.
By the age of 24, Purdon says he "hit [his] limit in South Africa" and went to play in Scotland. Shortly after, he came to the U.S. for a "rugby holiday," expecting to only stay six months to play club rugby. Six months have now turned into six years.
"The first year I got here, there were maybe two guys who had touched a rugby ball before college," says Purdon. "Now, we're getting 50 plus high schoolers [who play rugby] applying to USD because they say they want to play for an up-and-coming program."
This development helps feed Purdon's goal of continuing to build the program into a USA Rugby Division IA team. Currently, it's a Division IAA team, one rung below the top level.
"If we get a couple of recruits each year, slowly, over time, we'll build a team that has 15, 20 recruits. Hopefully, in three to four years, we can make that jump up [to Division IA]."
Again, there is no experience needed to join USD Rugby. Just grit and the willingness to be a gentleman playing a hooligan's game, something that comes from the inception of the team.
USD Rugby was founded in 1980 by Johnny Purcell '82 (BBA) and Tim Klier, whose histories were intertwined for years. Both were originally from Bakersfield, California, where they played football together at Graces Memorial Catholic High School. Upon graduation, they moved south and attended USD to play football.
The two were inseparable as friends and roommates and decided to play rugby together at San Diego State University, since, at the time, USD didn't have a team. Seeing a need for one, the two smooth talkers convinced USD and the Southern California Rugby Union to create a team. By the fall of 1980, it became a reality.
USD Rugby's first team was comprised of an oddball "band of brothers," sporting shaggy hair, unkempt, collared shirts, and the motivation to prove themselves as a serious team. In its first two years, USD Rugby didn't lose a game to any college-level team, except Loyola, in what is said to have been a controversial game.
Purcell was inducted into the USD Hall of Fame in 2019, before his passing in July 2020 at the age of 62. But his sense of humor and bootstrap attitude lives on through USD Rugby. Each player sports a jersey with an embroidered "JP' on the back to honor the founding father.
The men will wear these jerseys as they head to Kennesaw, Georgia, on May 14th and 15th to compete in the Rugby 7s Collegiate Championship (R7CC), sanctioned by USA Rugby. The inaugural R7CC tournament will be hosted at Kennesaw State University and broadcast live on NBC and CNBC, with additional coverage streamed on Peacock. USD Rugby's first match against Kennesaw State Unversity will be streaming at 7:20 a.m. on Saturday.
The tournament will follow the Olympic format of seven players per side and seven minutes per half, testing the endurance of each team. USD Rugby was invited by USA Rugby to compete in the Men's Red Division IA tournament against universities such as Harvard, Long Beach State, Stanford and Tennessee, a chance to show they are Division IA worthy.
"If we win, that will be a great feeling," says Purdon. "But it's more than that. Anything we want to do, we have to fundraise for it. To do that, we have to show our ability out on the field so that alumni, parents and rugby enthusiasts all become interested and support us. Results aside, this is an opportunity to show that USD Rugby is a serious program."
For graduating team members like second-year School of Leadership and Education Sciences graduate student Oliver Kane, the R7CC tournament will be the last time he plays a match with his USD Rugby teammates.
"I'm a little bit sad," he admits. "When I joined, I didn't think I was going to get this attached to the guys on the team. I think individually, you'd look at us and say, 'There's no way those guys would be friends!' But for whatever reason we are and we all get along."
Winning the R7CC tournament would be the "exclamation point" at the end of Kane's year, but if not, his rugby journey isn't quite over yet. Because of the relationships built through the rugby community, Kane has been selected to join an academy to continue working on his skills.
It's journeys like Kane's that bring out Purdon's pride as head coach.
"I think the majority of men on the team were looking to be a part of something bigger, and within a year they have 30 friends and they are collectively working to achieve something great," he says. "We want to use rugby as a vehicle to help these young men go on to become leaders in society, and ultimately, just good people."
Follow USD Rugby on Instagram for all R7CC tournament updates @usd_rugby.
— Kelsey Grey '15 (BA)