Doctoral Student Caroline Walsh Publishes Book
Fairly Smooth Operator: My Life Occasionally at the Tip of the Spear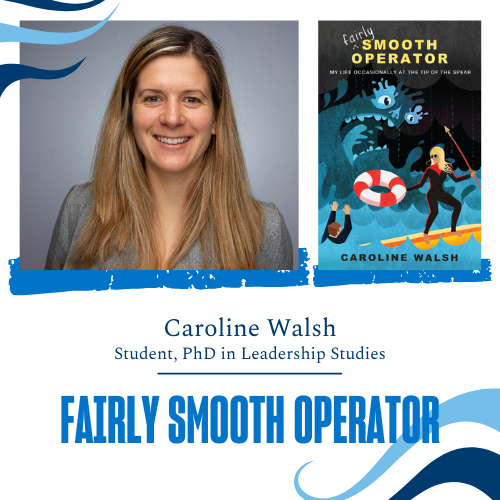 Caroline Walsh is a former CIA intelligence officer, Coast Guard veteran, and current PhD student in Leadership Studies. She works at USD's Military and Veteran Program office and is also an artist and course instructor for the Armed Services Arts Partnership Comedy Bootcamp. Caroline enlisted in the Coast Guard after graduating college with a bachelor's degree in psychology, and earned her Master's in Homeland Security from Pennsylvania State University in 2013 while active duty, writing her final paper on pandemic preparedness.
Book Intro:
"When people ask why I joined the Coast Guard, I respond that I was twenty-two, blond, and fit. In most military services that is guaranteed sexual harassment. Why not join the one with the ocean breeze?"
Caroline's journey from enlisted Coast Guard member to CIA analyst includes boot camp, Hamptons yachters named Gary, meaning making in Guantanamo Bay, and a session with a Veterans Affairs-assigned therapist who has fourteen cats, one of which cures migraines. She takes you from serious topics of sexual harassment and suicide to laughing about how her predator's moment to make her prey was oddly interrupted. You are a fly on the wall during her botched FBI polygraph and will be scratching your head about her CIA classmate who U-turns during their surveillance-detection training like she just saw a sign for a sale at Macy's.
Book Reviews:
"Walsh handles serious topics with nuance and charm as she interlaces her love of the ocean with a life that takes her on missions across the world of varying degrees of absurdity. This book avoids the pitfalls of other government service memoirs that overplay seriousness of missions at home and abroad and have you rolling your eyes by the end. With her refreshing memoir, Walsh does embrace action-packed, exciting life but also mundane and the outright stupid situations that comprise 80% of government work. To boot, she accurately she captures the challenges of working in male-dominated, hyper-ego driven fields. Regardless of your background, this book will have you laughing, challenge your assumptions, and leave you wanting to read more."
"I couldn't put Caroline Walsh's book down until it was finished. I started reading Fairly Smooth Operator yesterday after work and am hoping for a sequel less than 24 hours later. The book is raw, honest, funny, tender, heartbreaking, and ultimately hopeful. It was a joy to read, and I will recommend it to friends and colleagues who have faced some of the challenges the author discusses. I'd love to see a sequel to see where the next stage of the author's career takes her."
Congratulations, Caroline!