Dr. Lee Williams Publishes New Book: Assessment in Couple Therapy, Navigating the 7 Cs of Relationships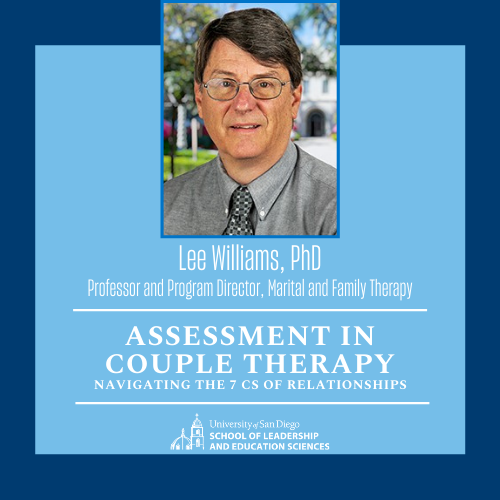 begin quote

This innovative text offers a simple but comprehensive framework for couple assessment that integrates research and information on couples from a wide range of models.
Dr. Lee Williams has published another book, Assessment in Couple Therapy! Dr. Williams is a Professor and the Martial and Family Therapy Program Director.
Using the 7 Cs as a basis for guiding assessment, chapters move through key areas of couple functioning including communication, conflict resolution, culture, commitment, caring and sex, contract, and character. An additional chapter on children also offers insights into assessment of couples who parent. Offering a broad and accessible framework that can be applied to a variety of theoretical perspectives, the book highlights how the 7 Cs can be used to inform both assessment and treatment of couples. Numerous case examples are interwoven throughout the text to demonstrate how therapists may utilize this approach to work with a diverse client base.
Written in an accessible style, Assessment in Couple Therapy is an essential tool for students of marriage and family therapy and beginning therapists, as well as seasoned mental health professionals working with couples in a range of settings.
Well done, Dr. Williams!
Learn more about the book and get your copy.