SOLES Celebrates Native American Heritage Month: Elijah Bonde '15 (MA)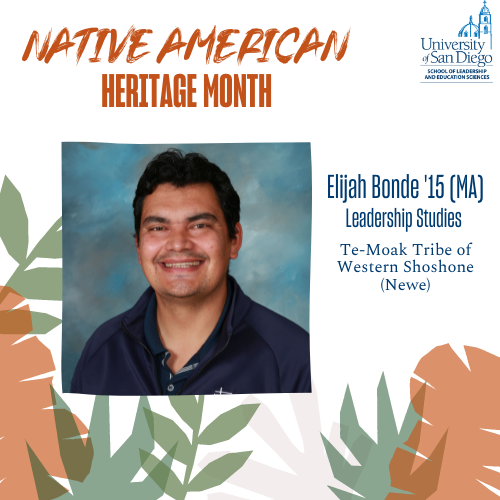 To honor Native American History Month, Elijah Bonde '15 provides his thoughts on Native Americans remaining in the present tense. Elijah received his bachelor's degree from USD in 2005 and his Master's in Leadership Studies in 2015. He is currently a Catholic school principal in San Diego, as well as the President of the Native Alumni Network at USD.
What are your preferred name and pronouns?
Elijah Bonde, he/him/his
What Tribal Nation are you a part of?
Te-Moak Tribe of Western Shoshone (Newe)
Why do you feel it's important to recognize Native American Heritage Month?
I find it important to recognize our American Indian and Alaska Natives during this heritage month because it reminds our communities that we are still present and helping to share our society. The narrative related to natives is too often past tense, and these recognitions remind those around us that we are still here.
What do you hope is accomplished during the month of celebration and recognition?
I hope that through the celebrations of this month, my children will have the opportunity to see their culture shared within their schools in a meaningful way.
Is there anything else you would like to share?
The
USD Native Alumni Network
is proud to offer a space for our Native alumni to come together in community to support each other and our current USD students. If you'd like more information about the Native Alumni Network at USD, please reach out to me at elijah.bonde@gmail.com.