SOLES Celebrates National Hispanic Heritage Month: Dr. Nydia C. Sánchez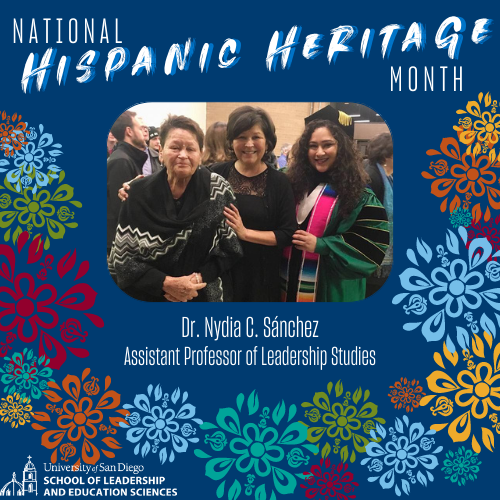 Image L to R: Aurelia Medina (grandmother), Leticia Medina Sánchez (mother), and Dr. Nydia C. Sánchez
In observance of National Hispanic Heritage Month, we interviewed Dr. Nydia C. Sánchez. Dr. Sánchez is an Assistant Professor of Leadership Studies with SOLES. She also recently co-wrote a ground-breaking article: "Theorizing Home in the Academy: Chicana Doctoral Student Testimonios from the Borderlands".
What are your pronouns?
she/ella
How do you celebrate Hispanic Heritage Month?
It looks a little different every year but generally I try to integrate the spirit of Hispanic Heritage Month into my scholarly, teaching, and service activities as a faculty member. For example, this year, as part of my scholarly activities on campus, I presented data that shows how USD is an emerging Hispanic-Serving Institution. Then, as part of my teaching activities, I shared a StoryCorps video titled
"Facundo the Great"
and Denice Frohman's poetry
"Accents"
and
"Abuela"
. Finally, as part of my service activities as the faculty advisor for the
Latinx Graduate Student Association
, I promoted our "Painting in the Park" event.
Who is someone of Hispanic heritage that inspires you?
My grandmother, Aurelia "Mamibuela" Medina, continues to inspire me. She passed away right before the school year began so she's been on my mind a lot. Truth be told, if it had not been for her, I would not have had the opportunity to study in the U.S. or to make a career here. She was such a hard-working and tenacious woman so let me tell you why she inspires me so much.
Born in Fresnillo, Zacatecas, Mamibuela left school behind to help her widowed mother with her eight siblings. As a teen, she got married and raised six children. It was her dedication to her family that inspired her to migrate to the frontera for a better life. For nearly 15 years, she crossed the U.S.-Mexico border every day to serve as a maid, until her work ethic and professionalism endeared her to a family that sponsored her in the U.S. After finally getting her papers, she worked in the fields picking asparagus and other fruits and vegetables while continuing her domestic work in Brownsville, Texas. In the early 1970s, she traveled north with her family and settled in Houston, Texas, where she practiced various trades, including selling tamales door to door, cleaning office buildings, detailing vehicles at a car wash, and finally settling down to work at a rice factory. Her impressive cooking skills also led her to pursue a thriving side business as a local taquera selling breakfast tacos and other Mexican fares, like gorditas, from her hielera (cooler) at work. A devout Catholic, she was also a dedicated member of the Immaculate Conception Catholic Church, where she attended mass every Sunday, volunteering her time and cooking skills by preparing vats of menudo as a member of the Sociedad Guadalupana. Yes, she worked hard all her life, but she enjoyed the simple pleasures, too. She cultivated a humble garden with her favorite plants, she traveled to visit family and never said no to good food, she listened to her favorite music and belted out spirited gritos...
Reflecting on her journey definitely puts my tenure aspirations in perspective. Her work ethic, commitment to mission, and penchant for simple pleasures are reminders for how I want to live my life.