Filipino American History Month Spotlight: Crystal Michelle Ryan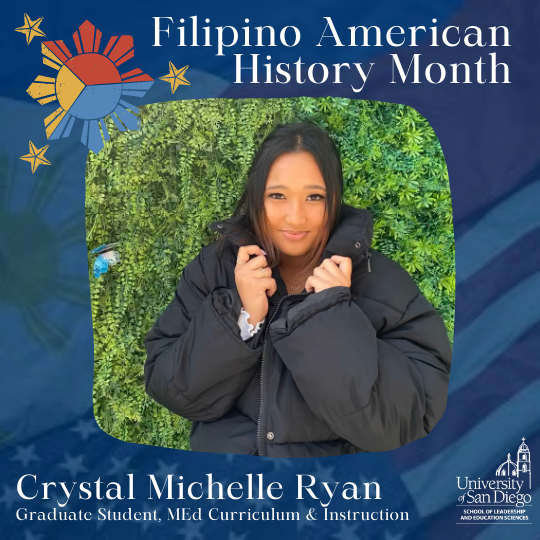 In recognition of Filipino American History Month, Crystal Michelle Ryan provides an important reminder about the importance of heritage and culture. Crystal is a graduate student in the MEd Curriculum & Instruction program with a Multi-Subject Credential.
Why do you feel it's important to recognize Filipino American History Month?
Fil-Am History month honors the history, accomplishments, and legacy of Filipinos in the U.S. and I find it extremely important to showcase our heritage and culture so that we can continue to share our story. Filipinos are the second largest ethnic group in California, we're all over the place and we deserve to be proud of that! Our history is filled with events, experiences, and people who have made great strides in achieving Filipino rights in America and it is essential that we recognize those stories.
Who is a Filipino American that inspires you?
Music is a huge part of who I am as a person and I am always inspired by Filipino artists taking on the stage. The incredibly talented Olivia Rodrigo is someone who definitely comes to mind. At such a young age, she is so expressive and creative and truly a powerhouse in the music industry. I love seeing Filipinos dominate the stage. I want to be her when I grow up.