SOLES Celebrates Asian American and Pacific Islander Heritage Month: Alumnus Spotlight with Doni Wong '20 (MA)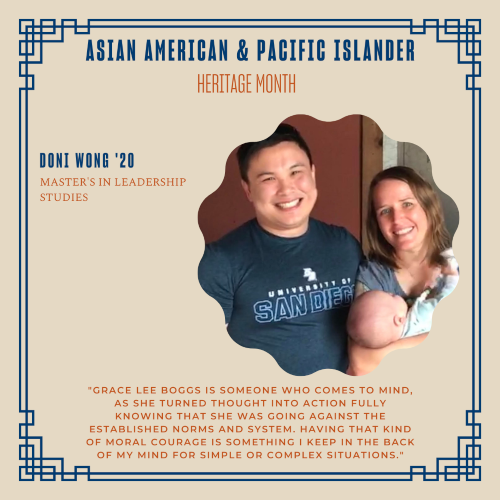 In observance of Asian American and Pacific Islander Heritage Month, Doni Wong shares his perspectives on the importance of celebrating the Asian community. Doni Wong graduated with his Master's in Leadership Studies in 2020 and is currently an officer with the US Army.
Why do you feel it's important to recognize AAPI Heritage Month?
While being an American is my primary identity, there is also an identity that is easily identifiable and part of my history. Knowing how people like me have contributed to AAPI, or the country, or the world at large, is impactful and inspiring. There are many things that are great about having an American identity, which simply put can be built upon the idea that it's a melting pot and something new or unique relative to other countries. However, it's also helpful to know the uniqueness of AAPI experiences, which in itself is already a massive generalization. Highlighting that uniqueness can bring to the forefront topics that may be uncomfortable, which then allows for them to confronted and discussed. As a whole, this can enable the next level of understanding.
What does AAPI Heritage Month mean to you?
It allows an opportunity to talk, or at least think about, AAPI issues that are unique or interconnected.
Which historical AAPI figure is most inspiring to you?
This may be the other reason why AAPI Heritage Month is good is that my knowledge on AAPI figures is limited. There are few notable figures that are celebrated or thought about on a regular basis, except for one month out of the year. Grace Lee Boggs is someone who comes to mind as she turned thought into action fully knowing that she was going against the established norms and system. Having that kind of moral courage is something I keep in my back of my mind for simple or complex situations. If she could accept the risk of being put on an FBI list for a cause she knew (as well as history would know) to be right, I too can step out onto the ledge for what I know to be right.