SOLES Celebrates Asian American and Pacific Islander Heritage Month: Alumna Spotlight with JoJo Lee '15 (MA)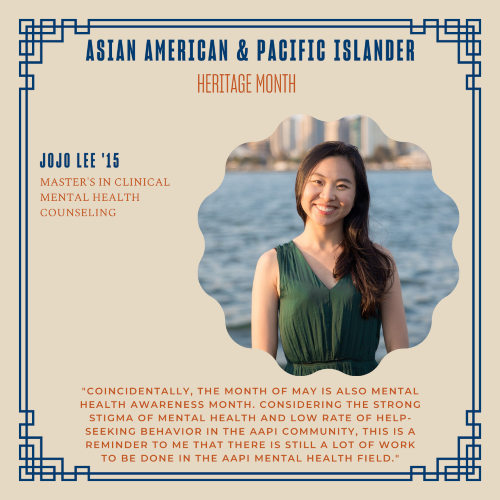 In observance of Asian American and Pacific Islander Heritage Month, JoJo Lee shares her perspectives on the importance of celebrating the Asian community. JoJo received her Master's in Clinical Mental Health Counseling from SOLES in 2015.
Why do you feel it's important to recognize AAPI Heritage Month?
Historically speaking, President Jimmy Carter signed the Joint Resolution into law which proclaimed the week of May 4-11 to be Asian/Pacific American Heritage Week. Not until May 7, 1990, did President George W. Bush sign into law proclaiming Asian Pacific American Heritage Month. At the same time, Asian Americans have been in this country way before 1990. I believe it is extremely important to acknowledge the accomplishments and contributions of the Asian American and Pacific Islander (AAPI) communities to the United States. Recognizing AAPI Heritage Month also encourages the community to celebrate and to share its differences, cultural diversity, and uniqueness to the world.
What does AAPI Heritage Month mean to you?
To me, the AAPI Heritage Month is a reminder: a reminder to acknowledge the history of the AAPI community, a reminder to celebrate my roots, and a reminder to show extra support for my AAPI neighbors, colleagues, and friends. Coincidentally, the month of May is also Mental Health Awareness Month. Considering the strong stigma of mental health and low rate of help-seeking behavior in the AAPI community, this is a reminder to me that there is still a lot of work to be done in the AAPI mental health field.
Which historical AAPI figure is most inspiring to you?
Honestly, this is the hardest question for me to answer. We have many outstanding AAPI figures in the community. However, they are "visible" and "invisible" at the same time. We don't talk about it enough to acknowledge their hard work. As a mental health counselor, I want to acknowledge the extraordinary work that Dr. Derald Wing Sue has done in the multicultural counseling field. He and his colleague Dr. David Sue had published several books multicultural counseling competencies. He also explicitly discussed topics on microaggression and racism to the public. His work has continuously guided me in my personal and professional development.
What do you hope is accomplished during the month of celebration and recognition?
To celebrate the month of AAPI Heritage, I have several things on my current to-do list that I would love to accomplish, including: reading Cathy Park Hong's latest book, "Minor Feeling: An Asian American Reckoning" and Iris Chan's book, "Untigering: Peaceful Parenting for the Deconstructing Tiger Parent"; doing outreach work in talking about suicide prevention in the community; and of course, continuously connecting with my family.