SOLES Celebrates Asian American and Pacific Islander Heritage Month: Faculty Spotlight with Dr. James Fabionar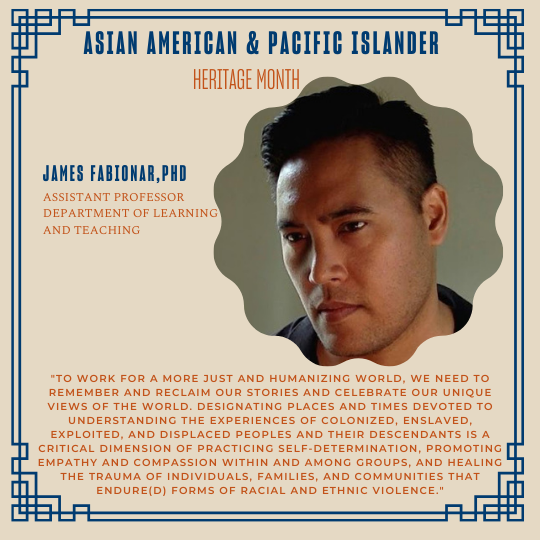 In observance of Asian American and Pacific Islander Heritage Month, Dr. James Fabionar Assistant Professor in the Department of Learning and Teaching shares his perspectives on the importance of celebrating the Asian community.
What are your pronouns?
He/Him/Siya (Them in Filipino)
Why do you feel it's important to recognize AAPI Heritage Month?
As a queer Filipino American, I recognize the importance of being "out" and claiming space in places where being outside the norm engenders misrepresentation, exploitation, self-hatred, and violence. The "forever foreigner" stereotype attached to Asian Americans is an old and persistent mechanism and symptom of white supremacy that reminds us that we are still largely seen as "other" in American and other western societies. This month reminds me to take pride in my heritage not simply as an individual act of celebration but as a commitment to solidarity within and across communities of color.
What do you hope is accomplished during the month of celebration and recognition?
My scholarship in education is grounded in ethnic studies, Asian American Studies, and Filipino American Studies. I am a steward of the history, cultural legacies, and political struggles of my ancestors and others on whose shoulders I stand. To work for a more just and humanizing world, we need to remember and reclaim our stories and celebrate our unique views of the world. Designating places and times devoted to understanding the experiences of colonized, enslaved, exploited, and displaced peoples and their descendants is a critical dimension of practicing self-determination, promoting empathy and compassion within and among groups, and healing the trauma of individuals, families, and communities that endure(d) forms of racial and ethnic violence.
Which historical AAPI figure is most inspiring to you?
Two come to mind. The first is Larry Itliong, a Filipino American labor organizer who pushed Cesar Chavez into unionizing during the California grape strike and creating the United Farm Workers (UFW). The second is Dawn Mabalon, a world-renowned Filipina American historian and activist who our community tragically lost in 2018. Both are figures from Stockton, California where my ancestors first settled in the U.S. Together, they remind me that liberation requires collaborative resistance to material and discursive forms of oppression.
What do you hope is accomplished during the month of celebration and recognition?
I'm not feeling particularly celebratory this year. My hope is that people commit to better understanding our experiences. At a recent talk I attended, Dr. Allyson Tintiangco-Cubales (SFSU) shared this question by Professor Dylan Rodriguez (UCR): "What if anti-Asian violence is not reducible to hate, and is in fact a persistent, unexceptional presence in the long historical, Civilizational terror-making machine that is the United States?" If this is at all a surprising question to entertain, please investigate it.