Oneida Doctoral Candidate Thomas Reed at USD SOLES Published Two Book Chapters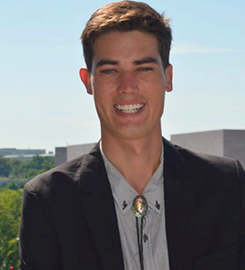 Oneida Doctoral Candidate Thomas Reed at USD SOLES recently published two book chapters in the book "Indigenous Research of Land, Self and Spirit"
Thomas James Reed, Oneida name "Lukwe'tiyó" which translates to "He is a good Man" has recently published two book chapters. His work appears in Indigenous Research of Land, Self and Spirit, published by IGI Global. Thomas is in his final year of the PhD program in Leadership Studies in the Department of Leadership Studies in the School of Leadership and Education Sciences.
Chapter Abstracts
A Critical Review of the Native American Tradition of Circle Practices
Abstract: This chapter is a critical review of circle practices. The author first examines the philosophical underpinnings behind similar practices of restorative justice, circles, circle practices, and talking circles. Then, the author explores the description of protocol and procedures of talking circles in the literature by various others. Thirdly, this literature review examines talking circles used in practice in the literature. This chapter synthesizes and critiques existing literature, as well as video resources and oral tradition. Circle practices are a traditional Native American practice of communication and community which has a strong spiritual core as a means for restorative justice. For some Native American people during talking circles, it is believed the person holding the eagle father or talisman cannot tell a lie.
Intergenerational Trauma and Other Unique Challenges as Barriers to Native American Educational Success
Abstract: This chapter examines unique challenges in the way of Native American educational success as well as solutions to overcoming. The chapter addresses why intergenerational trauma matters, the impacts of public policy on Native American people such as the Native American Languages Act of 1990, and the importance of Native American people being connected to the land, protecting traditions, language, and their ancestors. The purpose of this literature review is to shed light on Native American educational barriers and to critique existing literature. Areas analyzed include the trend of low rates of educational attainment among Native Americans, the history of abuse towards Indigenous people and other minorities, the impact on individuals, and solutions for the future. There is a need for Native American students to stay connected to cultural tradition, cultural relevancy in education, role models for Native American people, and the importance of Native American students staying connected to family.