SOLES Celebrates Black History Month: Alumnus Spotlight with Rod Smith '17 (PhD)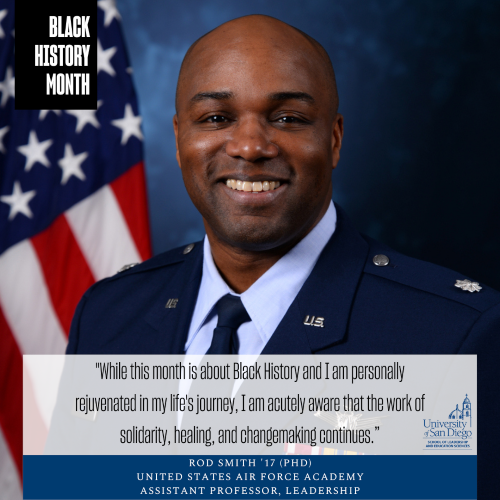 In observance of Black History Month, Dr. Rod Smith shares his perspective on the importance of celebrating the Black community. Dr. Smith graduated with his PhD in Leadership Studies in 2017. He is an Assistant Professor of Leadership at the United States Air Force Academy.
Why do you feel it's important to recognize Black History Month?
Aside from acknowledging and at times recovering accounts of our nation's history, I feel Black History Month is important to recognize as it creates a space for people of all colors and creeds to connect with the many legacies of soulful love, truth to power, and justice in the form of respect for human dignity.
What does Black History Month mean to you?
To me, Black History Month means a time to reflect, celebrate, and assess how I live up to the legacies of those who came before. It's a soulful time of year to reconnect with ancestral themes, old spiritual songs, and to the idea my life journey is part of a much larger narrative. As I think about my family and dearest friends, Black History Month is a time to reflect upon how I am helping to "Lift every voice and sing, 'til Earth and Heaven ring, ring with the harmonies of liberty".
Which historical Black figure is most inspiring to you?
James Baldwin
What do you hope is accomplished during the month of celebration and recognition?
My hope is that communities have a moment to consider and articulate their next courageous steps to observe with love and act in power for a justice that acknowledges everyone's claim to be. My hope is that communities work towards clear goals of inclusion, diversity, and equity for all.
Anything else you would like to add?
I am deeply grateful for the professors and colleagues I got to meet during my time at SOLES. The many explorations of the themes of solidarity and being a changemaker have profoundly impacted my worldview. While this month is about Black History and I am personally rejuvenated in my life's journey, I am acutely aware that the work of solidarity, healing, and changemaking continues. I am glad to be doing what I do (developing inclusive leaders of character) with what I have learned at USD. Go Toreros! Shine on!