SOLES Celebrates Black History Month: Alumnus Spotlight with Warren Whitaker Sr. '18 (PhD)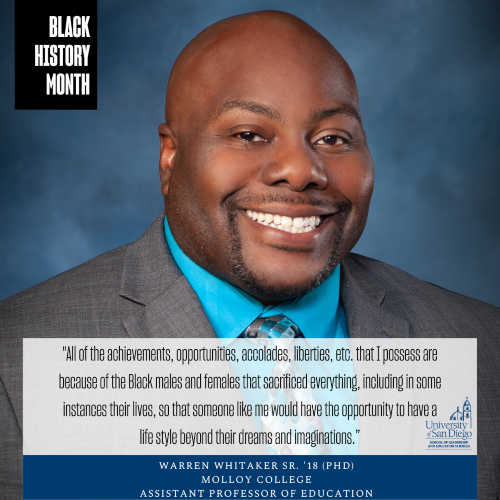 In observance of Black History Month, Dr. Warren Whitaker Sr. shares his perspective on the importance of celebrating the Black community. Dr. Whitaker graduated with his PhD in Leadership Studies in 2018. He recently started a position as Associate Professor of Education at Molloy College.
Why do you feel it's important to recognize Black History Month?
Black history is American history. Black people, despite enslavement, reconstruction, Jim Crow, and many other direct and formal oppressive systems and structures, have provided vital and valuable contributions to this country. Throughout history, we have provided vital insight, valuable inventions, strategic support, effective leadership, etc. to a country and society that has and continues to find ways to oppress us through systemic racist structures, policies, and practices. Black people have and continue to persevere through it all. Black History should be recognized 365 days a year! Black Girl Magic, Black Boy Magic, and Black Magic is REAL! PERIOD!
What does Black History Month mean to you?
It is hard to describe in words what Black History Month means to me. All of the achievements, opportunities, accolades, liberties, etc. that I possess are because of the Black males and females that sacrificed everything, including in some instances their lives, so that someone like me would have the opportunity to have a life style beyond their dreams and imaginations. It also means that I must continue my part in furthering the opportunities for the next generation of Black males and females that are coming after me.
Which historical Black figure is most inspiring to you?
The esteemed abolitionist Harriet Tubman. Harriet's determination and unapologetic attitude to bring Black people to places where they would have greater liberties is unfathomable. Being a Black disabled female, Harriet was determined to navigate racial, sexist, and ableist oppressive systems and people while risking her life for the opportunity to provide liberation for other enslaved Black people. She displayed powerful leadership through her strategic navigation using the Underground Railroad to transition the enslaved to liberties in the northern states. Her brilliance was also seen in her serving in the military as spy and leading an expedition that freed hundreds of enslaved Black people. I admire her faith and dedication to achieve any goal she set by any means necessary. Harriet is a powerful, historical Black pioneer that should be revered by Black people and non-black people! Harriet is the epitome of leadership, resilience, perseverance, faith, etc. It is hard to put into words what Harriet Tubman means to me.
What do you hope is accomplished during the month of celebration and recognition?
I hope that the recognition of Black history and Black people does not continue to be relegated to one month (the shortest month at that) out of the year. The contributions of Black people have had a significant influence on the daily lives of all Americans. We should be highlighting the pivotal roles Black people have played in this country as well as their distinguished and at times vital accomplishments. Black History should be recognized 24 hours a day, 7 days a week, and 365 days a year!