SOLES Celebrates Black History Month: Spotlight with Dean Joi Spencer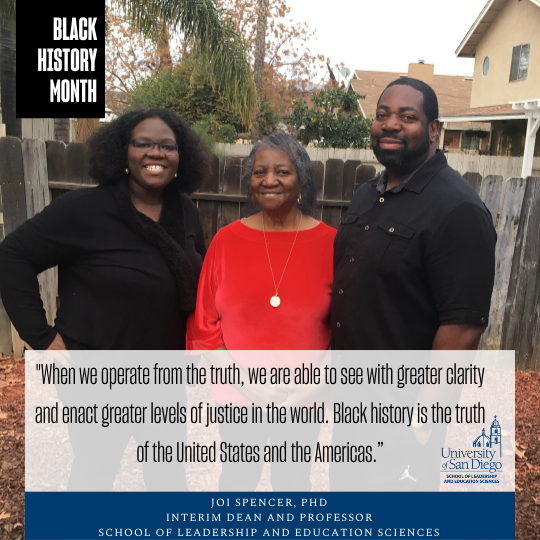 In observance of Black History Month, Interim Dean Dr. Joi Spencer shares her perspective on the importance of celebrating the Black community.
Why do you feel it's important to recognize Black History Month?
When we operate from the truth, we are able to see with greater clarity and enact greater levels of justice in the world. Black history is the truth of the United States and the Americas. Understanding it allows us to shatter the mythologies- such as manifest destiny and meritocracy- that pervade our collective imaginations and ultimately that oppress us. When we all learn Black history, we understand what society is capable of if it does not keep watch and when it allows its stated ideals to stand in direct opposition to its practices. When we study it, we buttress ourselves against fallacies. With careful study we can avoid committing the atrocities of the past. But it has to be studied and I am afraid that Black history is still not read and studied and understood well enough.
What does Black History Month mean to you?
The month is a wonderful opportunity for me to dig in and learn more about the history and legacy of African Americans. This month I am reading The Underground Railroad by Colson Whitehead and The Half Has Never Been Told by Edward Baptist. Black history month is a time to remember the very real sacrifices of my ancestors and to honor them by learning more about them and committing myself to the work of social justice.
Which historical Black figure is most inspiring to you?
I have always resisted the urge to focus on heroic figures. The collective work, ingenuity and sacrifice of Black people is what inspires me. The very hard decisions that Black Americans (like my grandparents and parents) have had to make while keeping their heads up and keeping smiles on their faces humbles me. Being able to structure my day as I like, read what I want to read and walk where I want to walk (for the most part) are freedoms that my ancestors' sacrifices secured for me. They are all heroes in my book!
What do you hope is accomplished during the month of celebration and recognition?
My hopes this year continue to be: a more accurate telling of American history, greater recognition of the immense contributions of Black people to this county, more economic justice, an end to the mass incarceration of Black people in the United States, and an end to educational and health disparities.
Anything else you would like to add?
The Association for the Study of African American Life and History (ASALH) founded Black History Month. Its founder, Carter G. Woodson believed that the record of world and American history needed to be corrected to reflect the truth of the contributions of African peoples. Each year ASALH determines the Black history month theme. This year that theme is The Black Family: Representation, Identity and Diversity. This theme is so appropriate. The Black family has endured so much throughout American history. In story after story, we hear how hard enslaved Blacks fought to keep their families together against unimaginable cruelty. Knowing how much we have overcome makes me cherish my family all the more. I am particularly grateful to my mother and brother, whose love brings me so much joy.