SOLES Celebrates Black History Month: Faculty Spotlight with Dr. Joseph Lathan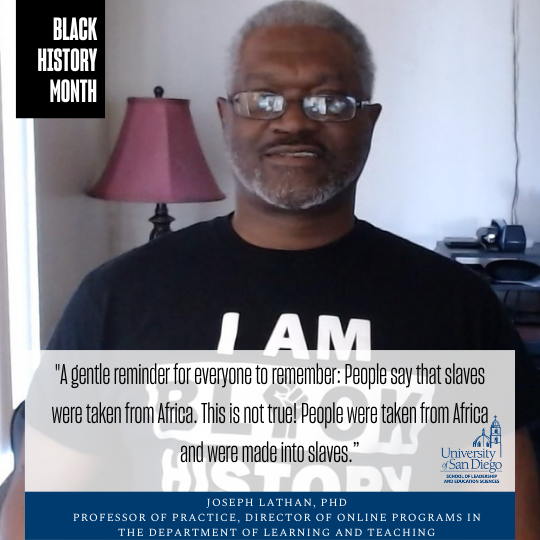 In observance of Black History Month, Joseph Lathan, PhD shares his perspective on the importance of celebrating the Black community. Dr. Lathan is Professor of Practice, Director of Online Programs in the Department of Learning and Teaching
Why do you feel it's important to recognize Black History Month?
Black History is American history! The contributions that Black people have contributed to "Make America Great" could not have happened without them. That's why it's important to note that February is only to acknowledge our anniversary because Black History is 24/7 7 days a week, especially if you live in America!
What does Black History Month mean to you?
Discovery Month! So many people are unaware of the many contributions that Black People have made to make our life easier up to this very day. This month even provides new discoveries for Black people because so much of the contributions have been stolen and this knowledge has been suppressed.
Which historical Black figure is most inspiring to you?
I have a few but will use Abolitionist Denmark Vesey. In 1771, fourteen-year-old Denmark Vesey was transported from St. Thomas to Cape Francais in the slave trade. In 1799, Vesey won the lottery and bought his freedom for $600. He could not purchase the freedom of his wife and children, however, and some claimed that this fact motivated his crusade to destroy the institution of slavery. Vesey joined the newly formed African Methodist Episcopal Church in 1817. He became a "class leader," preaching to a small group in his home during the week. White Charlestonians constantly monitored the African church, disrupting services and arresting members. An angry Vesey began preaching from the Old Testament, particularly Exodus, and taught followers that they were the New Israelites. His teachings regarding the "New Israelites" have influenced my faith up to this very day and consider myself to be a "Spiritual Israelite"
What do you hope is accomplished during the month of celebration and recognition?
Reconciliation! To help educate the American society that forgiveness is only a start to heal the inflicted wounds that racism has caused. To begin to treat these wounds we must begin at forgiveness and move to reconciliation. Reconciliation refers to the restoration of fractured relationships by overcoming grief, pain, and anger. It is, as Karen Broenus has written, "a societal process that involves mutual acknowledgment of past suffering and the changing of destructive attitudes and behavior into constructive relationships toward sustainable peace,".
Anything else you would like to add?
A gentle reminder for everyone to remember: People say that slaves were taken from Africa. This is not true! People were taken from Africa and were made into slaves.