SOLES Celebrates Black History Month: Alumna Spotlight with Janelle Brown-Peters '19 (MA)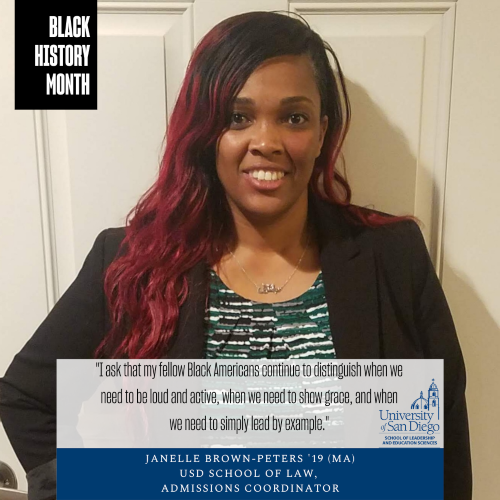 In observance of Black History Month, Janelle Brown-Peters shares her perspective on the importance of celebrating the Black community. Janelle graduated with her Master's in Higher Education Leadership Studies in 2019. She is currently an Admissions Coordinator at USD's School of Law.
Why do you feel it's important to recognize Black History Month?
It is crucial for us as Americans to recognize Black History Month for so many reasons. One, because Black history is not taught across the board in our schools. It is important to know all of our history as Americans, not just White or Black but also history on Latinx Americans, Asian Americans, Native Americans, Middle Eastern Americans, etc. For Black history in particular, we helped play such an integral part of the building and evolution of our country. There have been so many Black inventors, creators, artists, sports figures, activists, entertainment stars, scientists, doctors, lawyers/judges, politicians, entrepreneurs, and educators in this country who have left a significant impact on our country's history. It is especially important for all Americans to know that. Another reason, of course, is to truly understand the systemic racism that exists in America and the fight for movements like Black Lives Matter, criminal justice reform, police accountability and reform. We all need to understand the roots of where it all started. For example, how slavery in this country moved from the 1700/1800s to now mass incarceration, or why there are so many killings of Blacks at the hands of the police.
What does Black History Month mean to you?
Black History Month for me means a time to remember my ancestors and so many of those who died to help pave the way for me to be here today and do what I do. It is also a time to recognize those living that are doing so many extraordinary things and igniting change that we do not hear enough about. It is my time to learn even more of my history that I do not even know. It is a time to celebrate with my brothers and sisters our heritage/traditions/culture and come together in our fight for racial justice and equity. To that point, it is my time to hold myself accountable for where I am in the fight for racial equity.
Which historical Black figure is most inspiring to you?
This is such a difficult question to answer because there are honestly too many Black figures in history, and even now, who have and continue to inspire me daily. I could list many who were the firsts and broke barriers, invented things, sparked change, etc. However, to list just a few that inspire me are Michelle Obama, Vice President Kamala Harris, Serena Williams, Cicely Tyson, Chadwick Boseman, and a few others who are not so well known like, Isaac Wright Jr., Shonda Rhimes, and Shaun Harper. Although, if I think about a true historical Black figure who changed the game long ago and inspires me still, I think of Harriet Tubman. She was one of the strongest, most courageous Black women of all time! The fact that she risked her life not once, not twice, but countless times to go back and help save/free the lives of so many slaves after she had already made it to freedom is truly beyond words. She had to push through fear, pain, and loss to exemplify true sacrifice and selflessness to get done what she did. That sort of courage, commitment, and strength fuels me everyday to help support my community in any way that I can. I am determined to not let her sacrifice or any others who have sacrificed for my people be in vain.
What do you hope is accomplished during the month of celebration and recognition?
My hope for Black History Month, particularly this year, is that we continue to be loud in this fight for Black Lives Matter and demand change. That we really take each day of this month seriously and learn more about Black history and the pioneers that are not so well known. That we continue to lift each other up and celebrate one another especially in our accomplishments. That we continue the conversation to promote anti-racism in this country. That we remember the lives that were sacrificed for our freedoms and doorways that were created to become the firsts of many. That we all continue to hold ourselves accountable in ensuring our firsts are not lasts. That we continue the fight for criminal justice reform as this is needed to decarcerate such an astoundingly high population of our people in this modern-day version of slavery. That we continue the conversations and fight for police accountability and reform so we can stop losing so many of our lives to senseless deaths at their hands. And that we remember the Breonna Taylors, Ahmaud Arberys, Rayshard Brooks, George Floyds, and too many others. Also, that we start the work of putting Black history in the education curriculum in grade schools. It cannot just be learned as electives in college, majors of study, or something you can only get from going to a Historically Black Colleges & University (HBCU).
Anything else you would like to add?
I encourage those of all races and ethnicities to find out more about how they can help promote anti-racism and advocate for Black lives. I encourage everyone to learn more about Black history, during this month especially, and join in the fight for Black Lives Matter. I also ask that my fellow Black Americans continue to distinguish when we need to be loud and active, when we need to show grace, and when we need to simply lead by example. In the words of rapper Killer Mike, "If all of us do a little, nobody gotta do a lot."