SOLES Celebrates Black History Month: Alumna Spotlight with Heather Dierolf '99 (MA) '09 (PhD)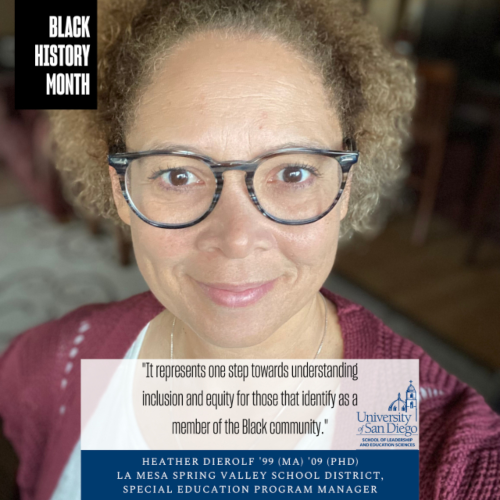 In observance of Black History Month, Dr. Heather Dierolf shares her perspective on the importance of celebrating the Black community. Dr. Dierolf graduated with her Master's in School Counseling in 1999 and her PhD in Leadership Studies in 2009. She is currently the Special Education Program Manager in the La Mesa Spring Valley School District.
Why do you feel it's important to recognize Black History Month?
It represents one step towards understanding inclusion and equity for those that identify as a member of the Black community.
What does Black History Month mean to you?
It brings a sense of pride that our country pauses to listen and learn.
Which historical Black figure is most inspiring to you?
Ms. Harriet Tubman - I can only imagine the fear and courage she must have experienced throughout her lifetime.
What do you hope is accomplished during the month of celebration and recognition?
I hope that our younger generation sees themselves in the many success stories of Black Americans.