SOLES Celebrates Black History Month: Faculty Spotlight with Dr. Erika Cameron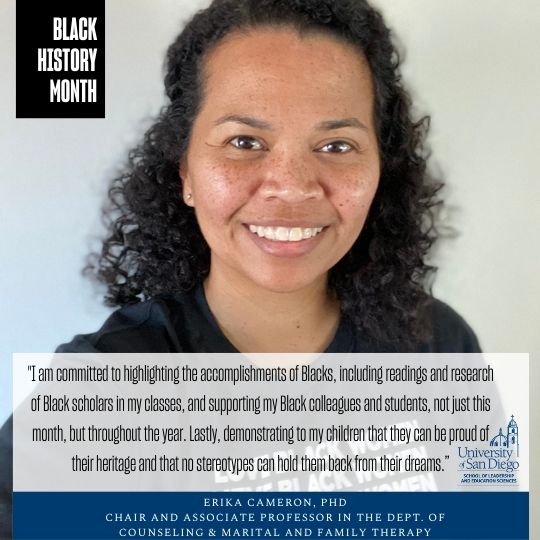 In observance of Black History Month, Dr. Erika Cameron, Chair and Associate Professor in the Department of Counseling & Marital and Family Therapy, shares her perspective on the importance of celebrating the Black community.
Why do you feel it's important to recognize Black History Month?
Historically, Blacks have not gotten the recognition for the accomplishments they have contributed to society. I also believe it's important for the world to see that Blacks are not the stereotype portrayed in the media. Lastly, by celebrating Black History Month it opens the door for individuals from diverse backgrounds to learn, discuss, celebrate, and acknowledge Blacks and Black history. It provides an opportunity so that we all can be mindful of the history, the contributions, provide visibility, and celebrate the awesomeness of Blacks for 365 days.
What does Black History Month mean to you?
The intentional acknowledgment of Blacks and their achievements in society.
Which historical Black figure is most inspiring to you?
There are so many... Dr. Martin Luther King Jr., Maya Angelou, Barack Obama... but if I had to name one who is maybe not as well known and an inspiration it would be important to mention Dorothy Height. She is known as the "godmother of the women's movement". She started her career working in social services and became a counselor for YWCA in Harlem. She advanced in her career at the YWCA, while also being a visiting professor and used her platform to advance women's and Black women's rights.

What do you hope is accomplished during the month of celebration and recognition?
Outwardly expressing my pride in being Black. Committing to highlight the accomplishments of Blacks, including readings and research of Black scholars in my classes, and supporting my Black colleagues and students not just this month, but throughout the year. Lastly, demonstrating to my children that they can be proud of their heritage and that no stereotypes can hold them back from their dreams.