SOLES Celebrates Black History Month: Student Spotlight with Rhonda Harley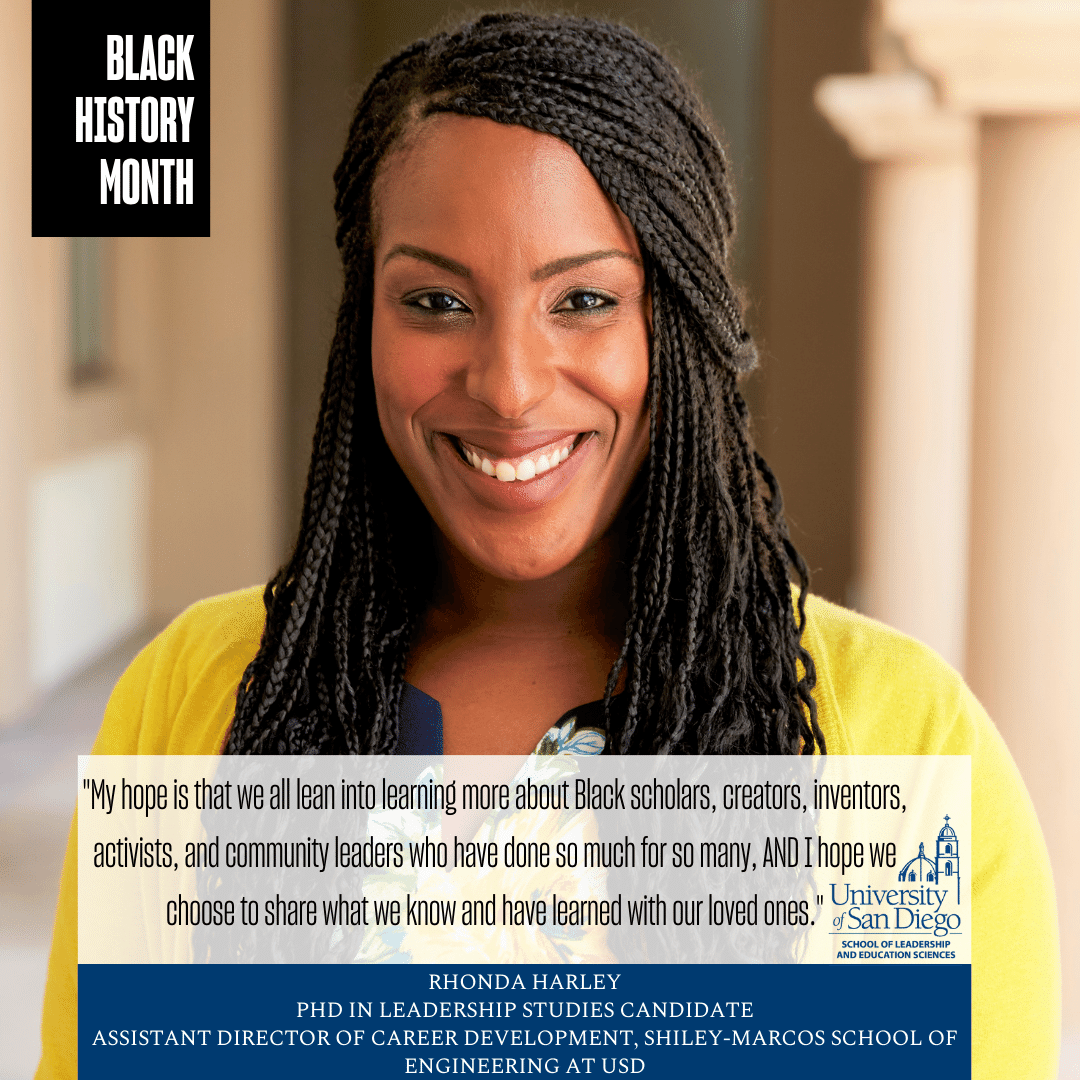 In celebration of Black History Month, Rhonda Harley describes the many reasons why this month is important, both for Black Americans and society at large. Rhonda is a candidate in our PhD in Leadership Studies program and the Assistant Director of Career Development for the Shiley-Marcos School of Engineering at USD.
Why do you feel it's important to recognize Black History Month?
To be Black in this country is powerful and painful at the same time. To have a nationally recognized month to honor the the joy, the pain, the positive, the unfathomable, the beauty, the gifted, the special, and all the BLACK GIRL MAGIC and the BLACK BOY JOY this month (and every month) can hold is why it is important to me.
What does Black History Month mean to you?
PRIDE! I am, indeed, my ancestors wildest dreams. Black excellence is ALIVE and FLOURISHING daily. BHM holds space to honor those who have come before me and paved the way. I stand on the shoulders of giants!
Which historical Black figure is most inspiring to you?
Oprah Winfrey and her consistent message of positivity and responsibility over your own life and happiness is my personal gospel and ministry (AMEN!). She is booked, busy and highly favored. This queen went from nothing to something to ALL the things and I admire her for that. #liveyourbestlife
What do you hope is accomplished during the month of celebration and recognition?
So much of our history and contributions to society have been stolen and intentionally erased from American history. My hope is that we all lean into learning more about Black scholars, creators, inventors, activists, and community leaders who have done so much for so many AND I hope we choose to share what we know and have learned with our loved ones. Sharing is caring :)