Q&A with Associate Dean Dr. Sarina Molina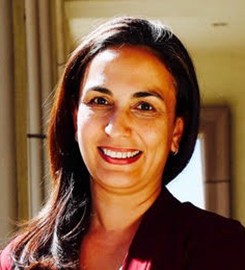 We continue our Q&A series, but this time we get to hear from SOLES Associate Dean and Associate Professor Dr. Sarina Molina.
1. Tell us about your role at SOLES.
As Associate Dean, my work primarily resides in providing administrative support for faculty and students in the academic realm of SOLES.
Since I have been in the Dean's office, I have launched the SOLES Social Justice website that houses all of the activities and training that is being undertaken in SOLES around social justice, equity, diversity, and inclusion. I have also worked alongside colleagues to facilitate the SOLES Faculty Open House events and Conversations of Color events for students and faculty of color. Last Fall, I facilitated our Faculty Open House with Dr. Antonio Jimenez-Luque on 'Decolonizing Pedagogies and Practices" and we hope to continue in the spring along these lines, particularly as we take a deeper look into ways in which to make SOLES a more welcoming and inclusive space. Since the summer, I have worked with our chairs to conceptualize and design an interdisciplinary trauma-informed certificate for clinicians, teachers, and leaders. My hope is that we can learn from each other through the lens of our different disciplines to become more informed practitioners as we serve members of our community. In addition to my administrative duties, I am an associate professor housed in the Department of Learning and Teaching and have been teaching in our PhD in Education for Social Justice program. In the Fall, I taught a course on "Globalization and Education" and this Spring I am preparing to teach a course on "Language and Culture in Education." I am actively engaged in my scholarship as well with several articles and book chapters being published within this academic year. In particular, I am most excited about the current book I am working on with three Indian colleagues on critical perspectives on language teaching within the context of India and globally.
2. What are you excited about for the upcoming year?
I am really excited about the launch of our inaugural book club on the book, "Caste: The Origins of our Discontents" by Isabel Wilkerson this Spring in partnership with Dr. Leslie Boozer. My vision was to create an opportunity for all those in SOLES to participate in a common initiative together. My hope is that this will create a space for discussions across students, staff, faculty, and administrators to help inform and improve our practice in SOLES. It's not too late to join, so please reach out and let us know if you are interested in participating. I will also be facilitating the SOLES Diversity, Inclusion, and Social Justice showcase in April, an initiative that was launched by Dr. Joi Spencer, our Dean, three years ago. I look forward to learning alongside our students and colleagues on the important work that is being done in SOLES around diversity, inclusion, and social justice issues.
3. What advice would you give to incoming students?
I would first like to take this opportunity to welcome all of our incoming students. We are so honored that you have selected SOLES as a place to further your education. One piece of advice I would give our incoming students is to partake in activities and events in SOLES and on campus. You get out of this experience as much as you put into it and as such, I would encourage you to participate as much as you can in the SOLES community. If you don't find an affinity group that you find aligns with what you are looking for, by all means, start your own group. Our faculty, administrators, and staff are always available for support, so please don't hesitate to reach out and let us know how we can make your experience at SOLES more rewarding. Again, we are so happy that you have found a home in SOLES and we look forward to your academic journey with us!
4. Share a fun fact!
I love to dance! I workout with a Zumba community in north county regularly. We dance to Bollywood, Hip Hop, Reggaeton, and Latin-fusion music.