Jesus Solis '20 (MA) Delivers Christmas Cheer to Students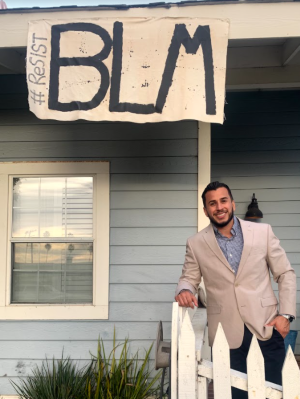 Jesus Fabian Solis is a recent Master's of School Counseling graduate from the School of Leadership and Education Sciences. We caught up with him about a holiday event he participated in for his students in Oceanside, CA.
This is my first year as a school counselor and I believe many would agree with me that this year has been an interesting, challenging experience, but also full of opportunities to make an impactful difference. This past Christmas, our amazing Parent Teacher Organization (PTO) and North Terrace staff members put together an event to deliver Christmas gifts to families who have been faced with many challenges during these tough times. We collaborated and identified families who were in need of support. The Oceanside Police Department and S&R Towing Company took the time to support us in this event which made this experience more special to the families, community, our school, and myself. This is a good reminder of how powerful kindness can be and how kindness can spread when we all come together to help one another.
One of my biggest challenges is not being able to see any of the students at our school. Therefore, delivering Christmas gifts to the families was important to me because I wanted to introduce myself to the community, families, and students. I want to earn the trust of my community and be that familiar face they can trust. I want the families to know that they have a school counselor they can count on and that the school community cares about them. My motivation is to keep reminding families and students that they are still part of a community even though it may look different with distance learning. And with so much going on with the world, our country, and all the other barriers families face everyday, we want them to know that North Terrace is their home and they have so many people that care about them.
I am forever grateful for the SOLES faculty for preparing to be a school counselor. I'm applying the knowledge and skills that I have gained from my professors at USD and giving it back to the community of Oceanside where I witnessed the joy and excitement of the families that day we delivered gifts. Lastly, I wanted to give a shoutout to our amazing PTO, Veronica Velasquez, North Terrace staff members, Oceanside Police Department and S&R Towing Company for making this all happen. I'm fortunate to be part of an amazing team. Go Tigers!