Q & A with Interim Dean Dr. Joi Spencer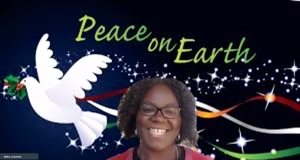 We continue our Q&A series with Interim Dean Dr. Joi Spencer.
How are faculty engaging or going to engage with the resources being developed around the diversity, equity, inclusion (DEI) issues?
SOLES has been very active and deliberate in this season of national awakening. SOLES faculty are engaged in reviews of their syllabi through the lens of equity and issues impacting BIPOC communities. Over 80 members of the SOLES community (faculty, administrators and staff) attended the 3-hour Groundwater Training with the Racial Equity Institute this November. This high level of participation was an incredible display of SOLES' commitment to this work; and it marked a significant moment for us to reflect on racism and its impact as a whole community. The training deepened our community's understanding of racism as a construct that deeply structures and stifles life and opportunity in the United States. In addition, we initiated a four-part faculty workshop series designed to improve and sharpen instructional practices related to race, equity and diversity. Taken together, these initiatives provide faculty with common understandings and shared language around race, racism and inequity and better tools to address them. I am proud that faculty are naming racism in this season and thinking hard about how to adopt anti-racist practices. Naming the problem matters, because we cannot hope to solve an issue if we do not first acknowledge it. Given that we are preparing thinkers and practitioners for the fields of education, leadership and counseling; these resources (trainings, workshops, etc.) can go a long way. Some changes may come quickly, while others will take more time. At the end of the day, this work must result in internal changes- changes to our processes, our ideas and our comfort-level with inequities. I genuinely hope that people come out of this season seeing more clearly and being much less satisfied with the inequitable status quo.
What can students do to contribute to SOLES' DEI goals?
Graduate school is such a unique and special opportunity. It should be a time when students think hard, read deeply, and churn ideas over and over in their minds. It is a unique moment of becoming and I hope that each SOLES student is thinking hard right now about who they want to become what they want their life's work to be. One of the best ways that students can contribute to SOLES' DEI goals is to read both what they are assigned and beyond. Read the great thinkers who have been addressing the deep challenges of racism and inequity. There is so much that history has to teach us. I hope that students will participate in the STARS (SOLES Takes Anti-Racism Seriously) Program and receive training to support those who have experienced racism. If students have time, they should get involved with our graduate student organizations and plan ways to educate and engage with their fellow students. Finally, I would highly encourage students to think about their professional lives beyond SOLES and to take steps to become anti-racist counselors, educators and leaders. This can mean joining professional organizations that are committed to anti-racism and equity and engaging in meaningful service to those who have been most impacted by racism and social inequity.
What are some of your holiday traditions?
The holidays have always been a special time in our family. We have lots of December birthdays, which adds to the festivities. My most treasured memories are baking cookies with my mother and delivering them to my family and friends. I am going to miss our cookie deliveries so much. They were one of the only times during our year when we got to see old friends, visit their homes and reminisce about our lives together. While we will not be able to celebrate exactly in this way this year, I am looking forward to spending uninterrupted time with my family, watching some of our favorite movies and spending the day in our pajamas.
If you have any additional questions for Dr. Spencer please feel free to fill out the Ask the Dean form.