SOLES-Giving Thank you!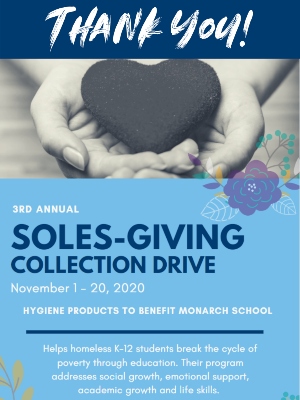 SOLES-Giving is an annual drive where students, faculty and staff donate items of need, such as hygiene products, to the Monarch School. The Monarch School is a school dedicated to educating students impacted by homelessness in San Diego. This year, from November 1-20, 2020 SOLES facilitated the third annual SOLES-Giving spearheaded by Kiyonna Navarro from the Dean's Suite.
Every year items are collected throughout the month and given to the Monarch School to distribute to students. This year, because of the pandemic, the collection looked a little different but the SOLES community still came through by sending items via Amazon. Gift amounts ranged between below$10 - $800 from individual donors. Thank you to the entire SOLES community and each individual donor, every gift mattered to the school and the families they serve.