The Nonprofit Institute at USD Shares the 2020 State of Local Nonprofits and Philanthropy on Giving Tuesday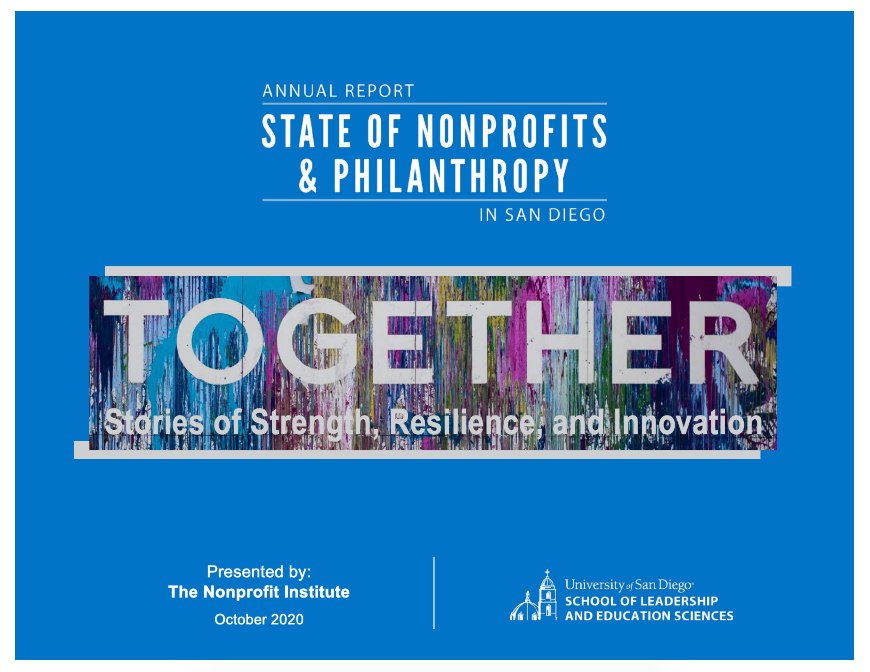 As San Diegans prepare to support nonprofits today on Giving Tuesday, The Nonprofit Institute at the University of San Diego (USD) is sharing the annual State of Nonprofit and Philanthropy Report. This year, the report provides an in-depth look at how local nonprofits are dealing with COVID-19 impacts.
The report found, in part, that while the effects of COVID-19 have touched all nonprofit organizations, negative financial impacts have been more profound in small nonprofits and in certain subsectors, such as education and arts and culture nonprofits.
"On this Giving Tuesday, nonprofit organizations need community support now more than ever. In our most recent report, only about 14% of nonprofit leaders said they were able to meet an increased demand for services during COVID-19, leaving a large unmet need in our community," said Dr. Emily Young, Executive Director of The Nonprofit Institute. "As an anchor institution, we're engaging with our local nonprofit organizations by offering technical assistance, numerous training opportunities and other resources so these leaders can continue serving our neighborhoods and manage this time of uncertainty."
The 2020 State of Nonprofit and Philanthropy Report was developed using findings from three nonprofit leader surveys, public opinion polling, and other sources of nonprofit data to provide the most up-to-date and holistic picture of this essential sector.
Key Findings:
COVID-19 has adversely impacted most nonprofits in San Diego County, with nearly all organizations reporting decreased revenues and donations, resulting in widespread layoffs and furloughs of staff.
Demand for nonprofit services is shifting as community needs change. In areas where demand is growing, inability to meet all the increased demand signifies community needs may be going unmet.
Smaller nonprofits (budgets under $1 million), which comprise 85% of the San Diego nonprofit sector, reported more difficulty managing remote work environments and raising money in digital formats, than larger nonprofits (budgets over $1 million).
More Human Service and Health related nonprofits report stronger financial positions while more Arts and Cultured organizations describe their financial position as weak.
Black, Indigenous and People of Color (BIPOC) leaders are underrepresented in nonprofit leadership.
The full report can be accessed here in our Digital Library.