SOLES Alumnae Recently Featured in SDVoyager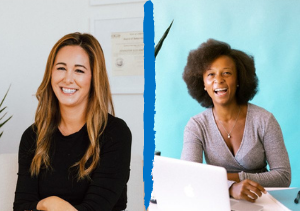 SOLES alumnae Jen Fisher '13 and Loretta Turner '20 were recently featured by SDVoyager as two of San Diego's Most Inspiring Stories.
Jen graduated from SOLES with her Master's in Marital and Family Therapy and currently runs her own private practice in Point Loma. She also is the president of the Postpartum Health Alliance's board of directors. Read more about Jen, her journey, and her private practice.
Loretta is one of SOLES most recent graduates, having graduated just this year with her Master's in Nonprofit Leadership and Management. She is a yoga teacher and also this year began Loretta Turner - Mindful Community Leadership. Learn more about Loretta, her philosophy, and her business.
It's so wonderful to see our alumni go good work in the San Diego community! Bravo to both of you!