alejandrx cervantes '18 (MA) Helps Form Solve for X Mutual Aid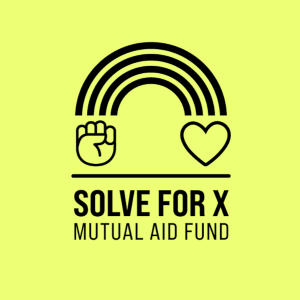 Solve for X (SFX) Mutual Aid was founded in March 2020, in response to COVID-19, to directly center and provide resources for Queer and Trans Black, Indigenous, and other People of Color (QTBIPOC). QTBIPOC are systemically marginalized and the pandemic only causes further harm to our communities. Through the support of so many, SFX has raised $21,000 in mutual aid and has redistributed this directly to over 150 individuals and families locally, nationally, and globally. SFX is committed to queering up all spaces so that QTBIPOC can live and thrive openly, freely, and safely everywhere.
SOLES is proud of graduate alejandrx cervantes '18 (MA), Leadership Studies, for their efforts as a founding member of the SFX team.
If you have the ability, funds can be sent through Venmo @sfxtogether. Another way to support is to follow @sfxtogether on Instagram, and engage with the content and share it out to your communities.
For any questions, please email sfx.together@gmail.com.
SFX Team:
alejandrx cervantes '18 (MA), Leadership Studies
Shannon Franklin, PsyD
Dru Barreiro
Kendall Thornton, PsyD
Robert Frederick