Congratulations to Our Two Graduate Assistants/Fellows and Recent USD MA Graduates: Rachele and Taylor!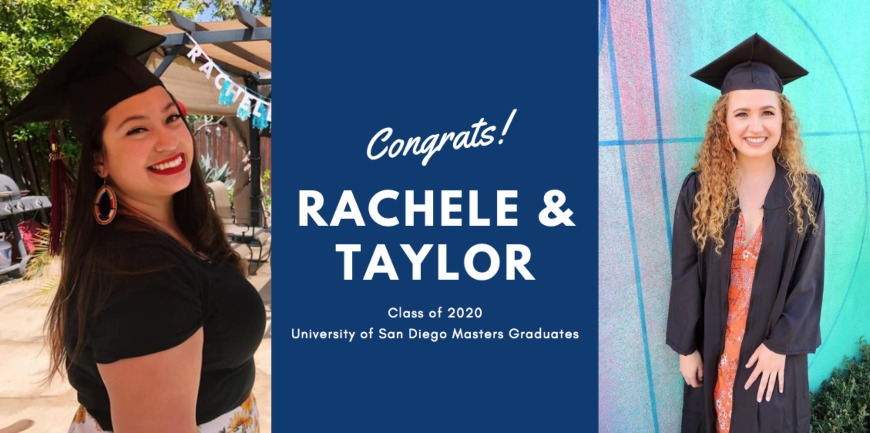 We recently sat down with Rachele Lopez and Taylor Funderburk, two of The Nonprofit Institute's graduate assistants/fellows, who recently graduated from their University of San Diego masters programs.
What University of San Diego graduate program did you graduate from?
Rachele: I graduated with a Master of Arts in Peace and Justice.
Taylor: I graduated from the Department of Leadership, SOLES Program, Masters in Nonprofit Leadership and Management.
How long have you been a graduate assistant/fellow at The Nonprofit Institute?
Rachele: I have been a fellow with The Nonprofit Institute for a year and a half, nearly the entire time I was in graduate school.
Taylor: I started with NPI the summer of 2017 as an assistant/administrative support (you know I'm not actually sure of my title haha). By spring 2018, I was thinking more about applying to the MA NPLM program and with Laura's encouragement I submitted my application. I began the program in Fall 2018 and so did my graduate assistantship. I supported the planning and coordination of the inaugural Arts and Culture Leadership Specialization which began its first course Spring 2019. I held my graduate assistant position for almost 2 years.
What programs did you support/what did you do at The Nonprofit Institute?
Rachele: I have done work with environmental initiatives and leadership development at The Nonprofit Institute. Some of the projects I have worked on are the Outdoor Leaders Initiative program, Equinox Project's Quality of Life Dashboard, SHE Experience, and Thrive Outside San Diego. My work with these projects have included program development, research, and communication.
Taylor: Now that I've been at NPI for three years, I have had the opportunity to be a part of many programs. The main program I helped support was with the City of San Diego Community Innovation Project. This included coordinating the Nonprofit Academy Workshop Series, The Small and Emerging Nonprofit Accelerator Program, and The City of San Diego Nonprofit Academy 2-day training. In addition, I have supported the RFQ review for two funding cycles with the Commission of Arts and Culture; I was able to take a lead role in the last cycle (Love the LUNA Calculation!). As part of my graduate assistantship, I supported two instructors for the Arts and Culture Leadership Specialization with implementing the inaugural cohort. I also had the opportunity to support other NPI team members in event planning, expense reports, other administrative tasks, and projects such as data analysis.
How was your experience at The Nonprofit Institute?
Rachele: I have loved my time working with The Nonprofit Institute. The work I have done has been a great intersection between my biggest interests: fighting for the environment and community building. I also liked how all of the projects I worked on involved collaboration of different partners within The Nonprofit Institute and various organizations throughout San Diego. It gives me hope to work with people who understand the importance of our projects and who are ready to fight for the common good. I have gained valuable skills and knowledge during my time with The Nonprofit Institute that I know will aid me in my future endeavors.
Taylor: Amazing. Empowering. Opportunity. I began fresh out of undergrad. Though sometimes, I felt out of my element, I always felt supported by the team. I have been able to grow in my technical skill set by being added to projects or trusted with more responsibility on projects I was already supporting. I am thankful for the friendships, support throughout school, and the ability to grow as an emerging nonprofit professional.
What are you most proud of during your time at USD?
Rachele: During my time at USD, I am most proud of living my passions and learning about how I can utilize my skills on the path towards a better global future. I am also beyond proud of myself for obtaining my degree because only 4% of Latinas in the U.S. have a masters degree. I feel incredibly honored to join this small percentage which I hope grows in size.
Taylor: Three words. Group Applied Projects. These were a core element of the program and one of the reasons I was drawn to it. Every semester I completed one or two group projects that consisted of pro bono consultant work with local nonprofits. I am proud of what I learned, getting work with amazing classmates and being able to see the nonprofits put the recommendations into practice.
Any words of advice for newly admitted graduate students?
Rachele: My advice for newly admitted graduate students is to determine your true passions. You should find and utilize groups, organizations, or departments on campus that share this passion. USD has many different opportunities to get involved on different levels and I would encourage new students to dive right in.
Taylor: 1) Embrace and utilize all of the university and department resources. Go to the career development center and get resume help. Sit down with your professors outside of class and get to their work in the sector and build those relationships. They will not only support you while in the program but once you leave as well. The program will go by fast and I have found these resources to be very beneficial during my journey. 2) Keep your books. I know it's tempting to sell your books or just rent, but if you can, I recommend buying the core books for each class. You will use them in the future. 3) Engage in every class. Semesters will get crazy but try to focus and take the class time seriously. Life will get bust of course so that is not always possible, but when you can stay focused and engage with the professors, your classmates, the materials and the group projects.
What's next?
Rachele: I'm not entirely sure what's next! I would like to work full-time for an organization that has a focus on environmental improvement. I've also considered going to school for environmental law. As long as I am able to continue working towards the improvement of the environment and communities, I am open to what my future holds.
Taylor: Staying at The Nonprofit Institute.