San Diego Nonprofits Report Decline in Donations, Expect More Layoffs, According to Survey by The Nonprofit Institute at USD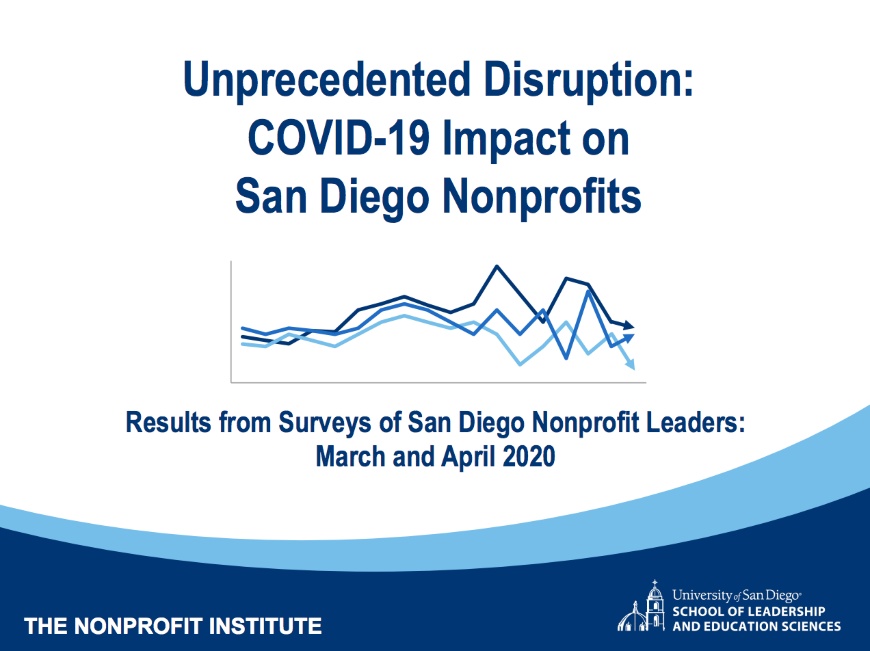 Nonprofit organizations working on the front lines to meet critical needs across the San Diego region are continuing to face unprecedented disruptions due to the COVID-19 crisis.
In March, The Nonprofit Institute at the University of San Diego found that San Diego nonprofit leaders made dire projections about the organizational and financial impacts of COVID-19. Findings from The Nonprofit Institute's April Survey Results, released today, indicate those initial fears were completely justified. A total of 381 nonprofit leaders representing both small and large nonprofits from a variety of subsectors responded to the second survey conducted by The Nonprofit Institute.
"Nonprofit organizations are essential to our quality of life across the San Diego region. As this crisis unfolds, many of them have stepped up and stepped in, finding creative ways to work together in meeting a growing array of critical community needs," says Dr. Emily Young, Executive Director of The Nonprofit Institute. "They are doing so as their own organizations are facing large drops in revenue, forcing them to furlough or lay off staff. This hollowing out of the nonprofit sector is an unprecedented unraveling of our community safety net."
Key findings from the April survey findings include:
Demand for nonprofit services is increasing while 71% of nonprofits are experiencing service disruption.

Three-quarters of all nonprofits report loss of fee-for-service revenue.

Over 60% of all nonprofits report decline in individual donations.

There has been a significant and unprecedented reduction of the nonprofit workforce with 53% reporting staff furloughs, layoffs, reduced hours and/or reduced pay and more layoffs expected in the future.

Nonprofits are responding to new demands and challenges by shifting programs online, working remotely, and collaborating in new ways.

Beyond needing essential financial support, nonprofits need assistance with reevaluating fundraising strategies, financial scenario planning, and managing stress and anxiety of staff and clients.
The negative impacts to local nonprofits come at the same time that San Diegans' demand for nonprofit services is increasing. Since the start of the pandemic, calls to 211 San Diego have increased by 288% as more people seek referrals for food, housing, and other services typically provided by local nonprofit organizations.
"COVID-19 has impacted every facet of our lives and community of health and social service providers," says William York, President & CEO of 211 San Diego. "Some existing programs have had to reduce service levels and others are unable to operate. San Diego's community provider response has been nothing less than inspiring. Our service provider partners are working day and night to get immediate resources to those most in need, and we are leveraging our Community Information Exchange (CIE) technology that allows a trusted network of service provider partners to send electronic referrals and communicate directly with each other to coordinate care, and many new programs have surfaced that we are proud to be a part of."