Research Week: A Virtual, Powerful Showcase for Students' Academic Success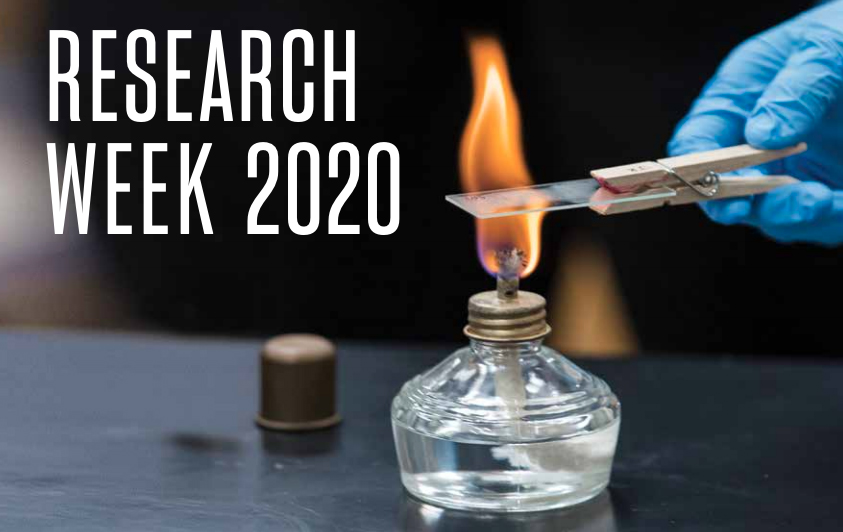 The act of education-based research can't be taken lightly. Research is about students gaining a new wrinkle of knowledge, answering one question and causing many new ones to explore. It is a worthy skill, an experience because of the highs, the challenges and the critical thinking that develops. Student research can set a foundation and begin the multiplying effect as others absorb your information and take pieces of it forward. Research is also the way to find a breakthrough cure for disease.
"Research is ...," is the beginning of a phrase for so many paths. It makes complete sense why the University of San Diego, through the Office of Sponsored Programs, Office of the Provost and other campus entities participate in the annual Research Week at USD program.
The sixth annual celebration of USD's many research and grant activities took place April 20-24. It was once again a good time to reflect on the value of resources that make so many experiential education opportunities available to our faculty, students, staff and programs. The only difference between this year and the previous five years was how it was delivered to the audience. A lighter schedule was in place because of the need to switch everything to a virtual presentation due to the COVID-19 pandemic.
Research Week 2020 Programming
Two Research Week staple conferences, the Office of Undergraduate Research's 30th Creative Collaborations, and the third School of Leadership and Education Studies' Diversity, Inclusion and Social Justice Showcase, were presented via Blackboard and Zoom, respectively.
A panel discussion by the 2019-20 Keck Undergraduate Humanities Research Fellows, shared insights into a program that gives the selected students an opportunity to do original, substantial research, scholarly activities and/or creative work advancing the interdisciplinary humanities over the Fall and Spring semester under the close guidance of a faculty advisor.
The Office of Undergraduate Research also honored three USD professors with awards as outstanding faculty research mentors. The nominations were made by their research students and each nominating student gave a heartfelt thanks to this year's recipients, Sarah Gray, Nathalie Reyns and Anthony Bell.
The School of Law hosted a virtual look at its USD Legal Law Clinic programs. For more than 45 years, the legal clinics have provided vital legal services to low-income individuals in areas such as immigration, civil, special education and disability, veterans, tax, entrepreneurship, and workers' rights law.
An emphasis on career development, specifically law enforcement and government organizations, were spotlighted.
Valisa Brown, 1998 sociology undergraduate alumni, was interviewed by Kelsi Dantu '19, chairperson for USD's Black Alumni Network, about Brown's 20-year career as a probation officer. Brown discussed her career, her USD education experience and advice for students thinking about getting into this line of work.
There were information sessions from both the FBI (virtual) and the CIA (phone appointments) to speak about their organizations and delve into career and internship opportunities.
Another Career Development Center-led activity this week was a virtual hour-long workshop entitled, "Articulating the Value of Your Liberal Arts Education." The workshop's aim was to have students learn how to connect their USD liberal arts education to the competencies that employers and graduate schools seek. Students were to practice this articulation through both written professional documents and orally in interviews.
Both Creative Collaborations and SOLES' showcase events speak to the liberal arts education mission at USD. While the COVID-19 pandemic and students' move off campus in mid-March caused lower entry numbers for both Creative Collaborations and SOLES' showcase, those who did submit videos and slide decks and did share their research with the USD community are to be commended.
Creative Collaborations featured 79 total video entries, some with just one student sharing their research and others, such as a group of students who examined water samples in Israel, each spoke in their video. The breakdown of the 79 entries, which can still be accessed on USD's Blackboard platform had 28 projects from Life and Physical Sciences, 18 for Social Sciences and Behavioral Neuroscience, 16 from Engineering, Math and Computer Science and seven for Arts and Humanities. View the 2020 Abstract Book here.
There were 20 School of Leadership and Education Sciences showcase research video and slide decks during the online event. Shining a direct light on ways for the education system to improve, to have the research that provides more discussion and action around diversity, inclusion and social justice, makes this a must-see event. A current trio of SOLES students participated in a panel discussion centered on advocacy through research. The panelists were Maylen Rafuls (PhD, Leadership Studies), Susan Zyphur (MEd Teaching English to Speakers of Other Languages – TESOL) and Marites Exume (MA in Marital and Family Therapy).View the 2020 Program to see what was featured.
When the week was all said and done, the sixth annual Research Week at USD accomplished many of its goals. There's greater awareness of the great research by students, there is support from faculty and staff, and the realization of the resources available to students through programs, centers, institutes and offices all across campus and now, virtually. Research Week at USD is a sign that everybody knows just what "Research is."
— Ryan T. Blystone