SOLES Doctoral Student Recognized by Women's in Student Affairs (WISA)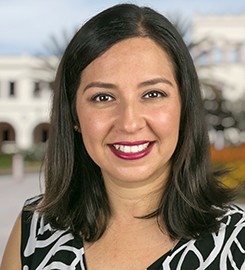 Briseida Elenes, a doctoral student in Leadership Studies, specializing in Higher Education Leadership, was recently selected as the 2019 Runner Up for the Women's Research & Scholarship Award conferred by NASPA's Women's in Student Affairs (WISA) Knowledge Community, a national award competition that recognizes outstanding research contributing to the knowledge and research of women's issues in student affairs and higher education. This comes with a modest grant and recognition during the NASPA annual conference, in addition to being invited to write for the WISA 2020 blog series.
Briseida's passion for educational access, retention, and equity are fueled by her own experiences growing up near the US-Mexico border, being an English Language Learner, and as a first-generation college, master's, and now a doctoral student.
Briseida is also graduate assistant in the Leadership Studies Department, teaching courses in the Leadership Studies Minor and advising undergraduate minor students. She enjoys creating spaces where personal and community-based leadership are explored so that students can reach their fullest potential as scholars and stewards of social justice and change in their communities.